A tool for discovering the MAC addresses of remote systems.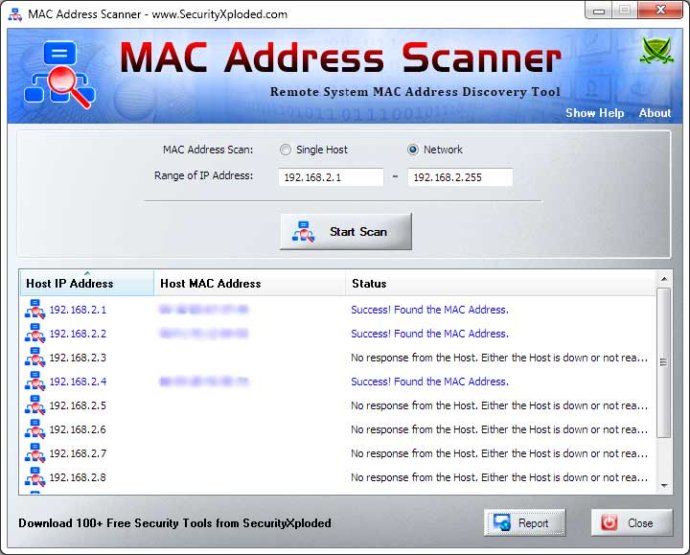 Looking for a free and easy-to-use desktop tool to remotely scan and find the MAC Address of all systems on your local network? Look no further than MAC Address Scanner.

This powerful tool allows you to quickly scan either a single host or a range of hosts at any given time. During the scan operation, you'll be able to view the current status of each host, helping you keep track of your entire network at a glance.

It's worth noting that you'll only be able to find the MAC address for all systems within your subnet. For all others, you'll see the MAC address of the Gateway or Router.

MAC Address Scanner comes loaded with a range of powerful features designed to make it a snap to use. You'll benefit from automatic detection of the IP address range of your local network, color-based representation for successful and failed hosts, the ability to stop the scanning operation at any time, and so much more.

One of the standout features of MAC Address Scanner is the ability to save the scan report to an HTML file. This makes it easy to share and collaborate with others on your network, helping you stay on top of your systems and improve your overall productivity.

Plus, MAC Address Scanner is fully portable and can be run on any Windows system. Whether you're running Windows XP, Windows 10, or the latest version of Windows 11, you'll be able to use this versatile tool with ease.

So why wait? Try MAC Address Scanner today and discover how easy it can be to remotely scan and find the MAC Address of all systems on your local network!
What's New
Version 6.0: New 2022 edition supporting latest Windows 11 platform. Also upgraded MAC Manufacturer database to latest 45000+ company list