Mail Spy Monitor is an efficient spy software ideal for both home and office use. It allows for the monitoring of all SMTP and POP3 mails with a well-designed interface.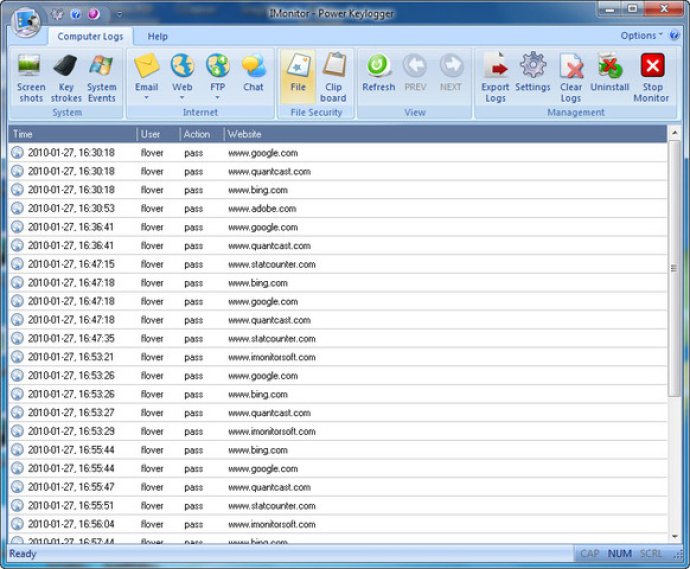 Mail Spy Monitor is a highly efficient spy software that is ideal for both personal and commercial use. Whether you're monitoring at home or for office purposes, Mail Spy Monitor has all the features you need to log all SMTP and POP3 mails.

One of the key strengths of Mail Spy Monitor is its ability to log all emails in various applications like Microsoft Outlook 2000 / XP / 2003 / 2007, Microsoft Outlook Express 5 / 6, Windows Vista WinMail, and Incredi Mail. Furthermore, it enables you to send all logging reports in text format straight to a pre-set email box.

Mail Spy Monitor has an impressive range of features that make it an easy to use and highly effective software to utilize. It works silently and seamlessly in stealth mode, making it confidential in its monitoring process. The program operates invisibly within Windows systems and is only accessible with a password, adding to its security.

Lastly, Mail Spy Monitor is highly versatile and flexible. You can export logs to HTML EXCEL format, allowing for the comprehensive data analysis of emails. It works proficiently with Windows 2000 / XP / Vista, and Windows Server 2003, making it highly adaptable to a multitude of systems.

Overall, Mail Spy Monitor is an excellently designed software that consistently delivers optimum results in your surveillance process.
What's New
Version 3.0: N/A