MB Free Taurus Astrology is a comprehensive software that provides detailed reports on the positive and negative characteristics of Taurus individuals based on the Western Astrology principles. It is an efficient tool for predicting personality traits and understanding zodiac signs.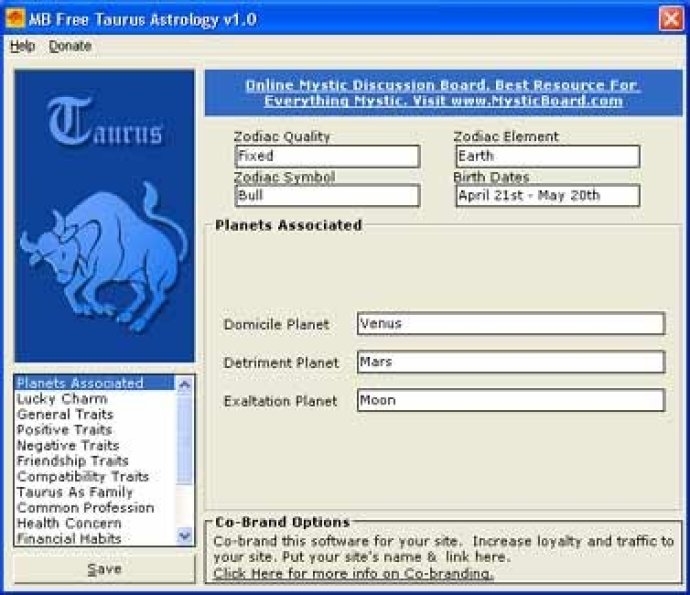 MB Free Taurus Astrology is a powerful software that every astrology enthusiast must-have. It is designed to bring you valuable insights about your zodiac sun sign-Taurus, based on Western Astrology.

This software provides unparalleled accuracy in describing the mental attitude and overall nature of the Taurus native, making it a must-have for individuals seeking to learn more about themselves or others. The program is a treasure house of fascinating facts about the Taurus personality and features, making it an indispensable learning tool for anyone looking to enhance their understanding of the Taurus zodiac sign.

With this program, you get to learn in-depth about the characteristics and features of people born under the Taurus sun sign. The sun's position in a particular sign at the time of a person's birth is used to calculate their sun sign in western astrology. MB Free Taurus Astrology helps you understand both your positive and negative traits. It assists in identifying areas that you can improve to build a better personality.

Overall, MB Free Taurus Astrology is an excellent tool to better understand yourself, identify areas for improvement, and grow as a person. It is user-friendly and intuitive, making it easy for anyone to navigate and learn more about the Taurus zodiac sign. With its detailed insights and rich knowledge, this software is a worthy investment for anyone interested in astrology.
What's New
Version 1.70: Run time error 13 and application running error corrected.
Version 1.65: Changes made in registration module
Version 1.60: Error in Save format corrected
Version 1.55: Error in Save format corrected
Version 1.50: Showing wrong data in certain OS. This bug has now been fixed
Version 1.25: minor tweaking for better performance
Version 1.10: minor tweaking
Version 1.0: N/A