The meta tag grabber tool extracts meta tags (Title, description, keywords) for website promotion and SEO. It processes massive amounts of URLs and saves data in Excel or text files. Perfect for optimizing website content.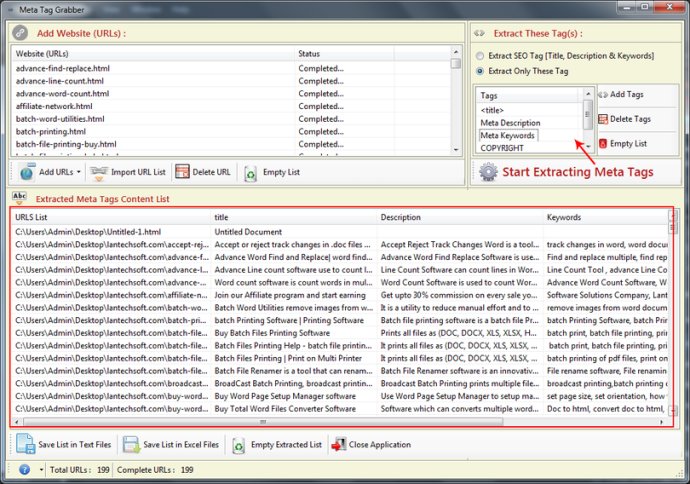 If you're looking for a reliable software solution to acquire meta tags for SEO and website promotion, look no further than the Meta Tag Grabber. This unique tool is designed to extract metadata from web pages quickly and efficiently. It works by extracting data like title, description, and keywords from any given URL, and can also extract meta tags embedded in links on the web page - making it a multitasking must-have for anyone interested in optimizing their website for search engines.

The Meta Tag Grabber is an accurate finisher that requires minimal time to complete its tasks, making it a great timesaver for busy webmasters. But this metadata extractor tool offers much more than just extraction. Users also have the freedom to import and dump as many URLs as they want, and can even utilize pre-existing files saved in Excel or Text format.

In addition to extracting standard meta tags, the Meta Tag Grabber also allows users to add custom tags like Heading, Author, and Content, providing a comprehensive solution for acquiring all types of metadata. Once the meta tags have been harvested, they can be saved in either Excel or Text format for future use.

Overall, the Meta Tag Grabber is a powerful tool that can save you countless hours of manual extraction. Whether you're looking to optimize your website for SEO or promote it on social media, this software has all the features you need to get the job done quickly and efficiently. Simply enter the website URL and let the Meta Tag Grabber do the rest - it's truly the best tool for SEO and website promotion.
What's New
Version 2.5.0.11: Windows 10 Support
Better Performance
Smaller Bug Fixes