MobiDrive provides protected cloud storage that allows easy access to vital files on any Windows computer.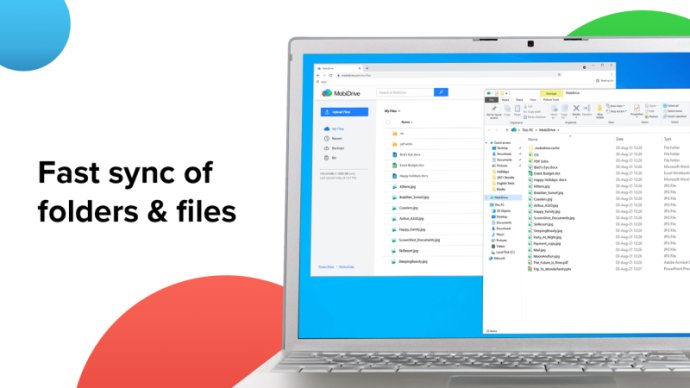 MobiDrive is a secure cloud storage solution that allows for easy access to important files on any Windows PC. With its powerful file management options and cross-platform capabilities for file sharing, MobiDrive is definitely worth checking out.

MobiDrive offers up to 5 GB of free cloud storage which can be upgraded to as much as 1 TB (1000 GB) to meet your storage needs. The software also allows for quick syncing, storing, and downloading of files and folders. A dedicated MobiDrive folder is also integrated with Windows Explorer, making syncing files fast and easy.

The file management capabilities of MobiDrive are extensive. It allows you to store and manage any file type, and provides a quick view of recent files through a desktop widget. The software also has advanced integration with MobiSystems apps on all platforms, and allows you to view and manage recently accessed files. MobiDrive also offers up to 180 days of File Protection, with each file stored in the Bin remaining there for 30 days before being removed. Premium users can access version histories for files for up to 180 days.

For those who need on-the-go access to their files, MobiDrive offers cross-platform sync to its browser version, as well as the Android and iOS apps. It also makes sharing files easy, whether by attachment or by using a handy download link.

For users in need of even more capabilities, MobiDrive offers a premium upgrade. This provides up to 1 TB of storage, up to 180 days of file protection, and cross-platform access to OfficeSuite Premium on all platforms (Android, Windows PC & iOS). With all of its features, MobiDrive is definitely worth considering for secure, accessible cloud storage.
What's New
Version 2.80: Enjoy a smoother user journey with the batch of new improvements:

Account setup will no longer restart the File Explorer.
A 'Connection lost' state upon opening the widget won't bother you anymore.
Your Recent files section will be better indicated when empty.