oRanges Calculator is a tool for holdem poker players to understand hand ranges and calculate probabilities. It aids in understanding how often a range can hit specific hands and the likelihood of a starting hand fitting a given board.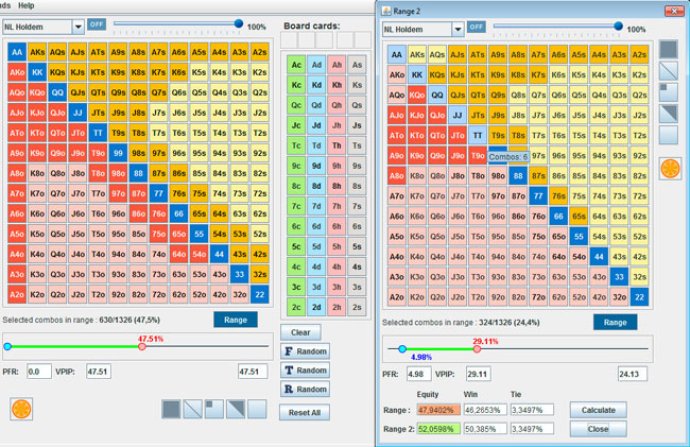 oRanges Calculator - Holdem Ranges Explorer is an advanced hand range tool specifically designed for holdem poker players. This software aims to provide players with a better understanding of how frequently a range hits specific hands. By doing so, users will be able to calculate the probability of their starting hand range fitting a given board. Moreover, this software enables users to conveniently visualize their opponents' ranges and build their own ranges to significantly increase their skills.

In-depth Range Exploration, Range analysis, Visualize opponents ranges, and Build your own range are amongst the key features of oRanges Calculator. Using these features, users can explore hand ranges more in-depth, analyze ranges and apply weights to starting hands to achieve better results. Besides, this software shows how a range hits an unknown flop, helping users analyze Hand vs Range spot on a specific board texture.

oRanges Calculator also provides its users with several statistical features. The software shows the overlap between different sets of statistics, allowing users to delve deeper into data exploration. Standard Filters will show the percentage and number of hands that passed through the filters on each street. With user filters, users can design filters to easily find the union, intersection, or difference of selected statistics.

The Flop texture filter is another interesting feature. Users can use it to generate random flops with a specific structure. This will help users conduct a study of how certain ranges fall into the boards with the selected texture.

Also, this software has a Preflop All-in Helper which enables users to calculate Equities of all hands against the selected ranges. Users can also determine EV Call and EV Push in the situations of call an opponent's push or possible opponent's call on their push.

Moreover, the Filter Manager is designed for group setting of filters and percentages. It allows users to construct and save patterns of filters and percentages for specific actions of their opponents and quickly set them on a specific street postflop.

Finally, Range vs Range is another feature designed for range vs range equity calculation, a vital aspect to beating modern poker games. This option helps users adapt their strategy, based on how their opponent considers their range.

In conclusion, oRanges Calculator is an outstanding software that offers a wide range of features. With its built-in pot odds calculator and Fold Equity/EV calculator, it helps users to make more informed decisions based on precise calculations, enhancing their overall performance in the game.
What's New
Version 1.0.0.919: Changes for v1.0.0.917 - v1.0.0.919

* Fold Equity/EV calculator added
* Rake value in Preflop All-in Helper added
* Faster Range vs Range calculations
* 1 card backdoor fd filters added
* Some minor improvements and bug fixes