This card game combines poker and solitaire rules, making it engaging and fun. It's easy to learn and addictive, offering hours of entertainment and challenges.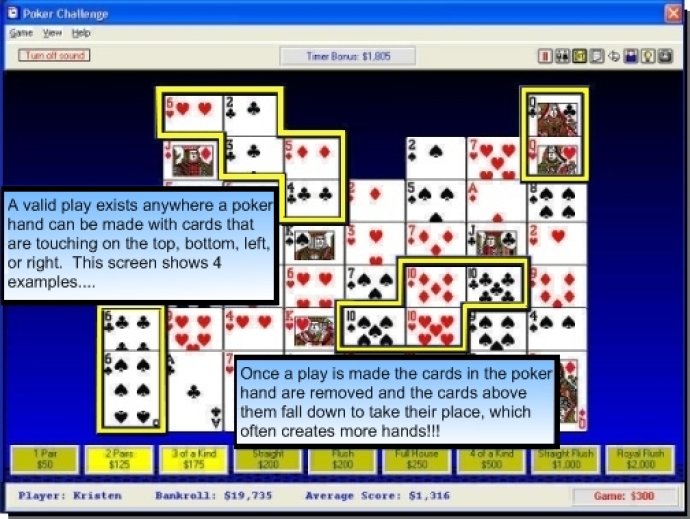 If you're looking for an entertaining and easy-to-learn card game, look no further than Poker Challenge. This game combines the rules of poker with solitaire, offering a unique and exciting gameplay experience.

To start playing, simply identify the poker hands within a deck of cards that has been dealt and spread out face up. Once you mark a hand to play, the cards that make up the hand are removed, and other cards fall down to take their place. The game offers countless possibilities of play, as each deal is unique, and there are many different ways to complete a game.

As you play, you'll be challenged to think several moves ahead and build more (and better) poker hands within the set of constantly shifting cards. You'll be awarded bonus points for creating as many different hands as possible, finding poker hands that yield the most points, and removing as many cards as you can. There's even a timer bonus that slowly ticks away to reward quick completion of each game.

The game is easy to learn and comes with simple rules presented when the game starts. You'll find yourself actively playing the very first hand dealt. As your skills advance, the game will keep you challenged with exciting special effects and windows that snap, pop, slide, and explode on and off the screen.

To help you measure your skills, the game tracks account balances, average scores, and high scores. Once all play possibilities have been exhausted, the game will automatically end and calculate your score with exciting special effects.

Overall, Poker Challenge is a great card game that offers a fun and unique experience. So, are you ready for the challenge? Give it a try today!
What's New
Version 4.6.1.000: Updated graphics to enhance the presentation.