PDF-to-Text software converts Adobe PDF documents to ASCII text with minimal loss of formatting info without the need for Adobe Acrobat.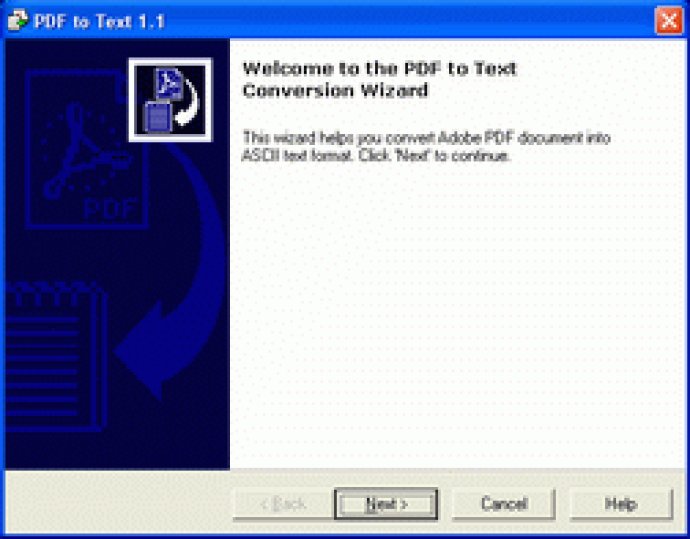 PDF-to-Text is a highly efficient program that enables you to convert your Adobe PDF documents into ASCII text format effortlessly. The software program includes a host of features that make it an excellent choice for most businesses or individuals.

One of the best things about PDF-to-Text is that it does not require the Adobe Acrobat software to function. This means that you can save on costs and resources since Adobe Acrobat can be expensive to purchase and maintain. Instead, PDF-to-Text provides an easy and straightforward means of converting PDFs into text format with minimum formatting loss.

Moreover, PDF-to-Text is highly intuitive and easy to use, even for non-tech-savvy users. You don't need any advanced skills to use it, and it comes with a user-friendly interface that enables you to accomplish your tasks in no time. Once you launch the program, you only need to select the PDF file you want to convert, and the software does the rest.

In addition to its ease of use, PDF-to-Text is highly efficient and reliable. The software has a fast conversion rate, allowing you to convert large PDF files within minutes. The output quality is also impressive, with minimal loss of formatting information. You can rest assured that the text output will be highly accurate and free of errors.

Overall, if you are looking for a reliable and efficient PDF-to-Text conversion program, then PDF-to-Text should be at the top of your list. It provides an affordable and easy-to-use solution that delivers high-quality output, making it an excellent choice for both individuals and businesses.
What's New
Version 3.3: N/A
Version 1.5: N/A