POP Peeper is a secure email alert software that supports WebMail, RSS, and anti-spam filtering. It offers password protection, message search, portability, and spell checking, among other advanced features.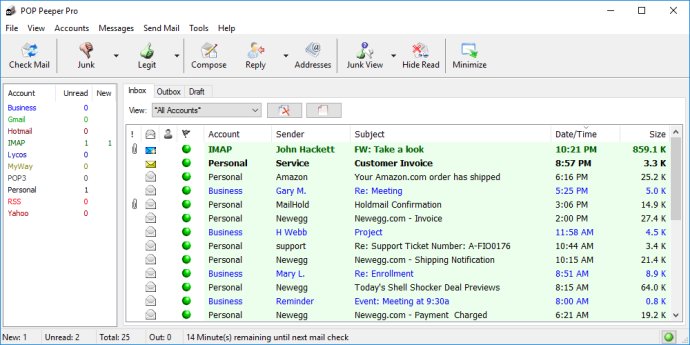 POP Peeper is an exceptional email notifier that offers a range of features for efficient email notifications. This software is designed to support a variety of popular protocols such as POP3, IMAP, SMTP with SSL, and Oauth2 for enhanced security. It also offers a multi-purpose solution that includes WebMail and RSS utilities to provide a seamless user experience.

One of the standout features of POP Peeper is its spam filter with rules, message search, and password protection. This software also boasts the coveted dark mode theme, and users can enjoy extensive customization options, such as toolbars, keyboard shortcuts, column size, and font size.

POP Peeper provides various notification options such as sound alerts with customizable configurations for each account, flashing keyboard LED, skinnable popup notifier, customized screensaver, and voice notification. The software also offers trayicon options, which show an animated icon displaying the number of new messages in the trayicon.

With its support for the IMAP idle command, POP Peeper ensures that users get notified promptly when new mail arrives in their mailbox. Additionally, the software provides SSL/TLS and Oauth2 security options to ensure the networking security of the user.

POP Peeper offers users the convenience of deleting, printing, and replying to messages. Advanced users can take advantage of these features by leveraging the software's AntiJunk feature, which automatically filters email to ensure notifications are only received for non-spam emails.

Overall, POP Peeper is a versatile and user-friendly software that offers advanced features for both beginners and advanced users. With a range of customization options and notification features, this software is an excellent option for enhancing email notification efficiency.
What's New
Version 5.4.6: https://www.esumsoft.com/products/pop-peeper/versionhistory/
Version 5.1: https://www.esumsoft.com/products/pop-peeper/versionhistory/