Power Spy is a covert computer monitoring software that operates discreetly, capturing all user activities, including browsing history, messaging, and keystrokes. With stealth mode, it remains invisible while recording screenshots and logging internet searches.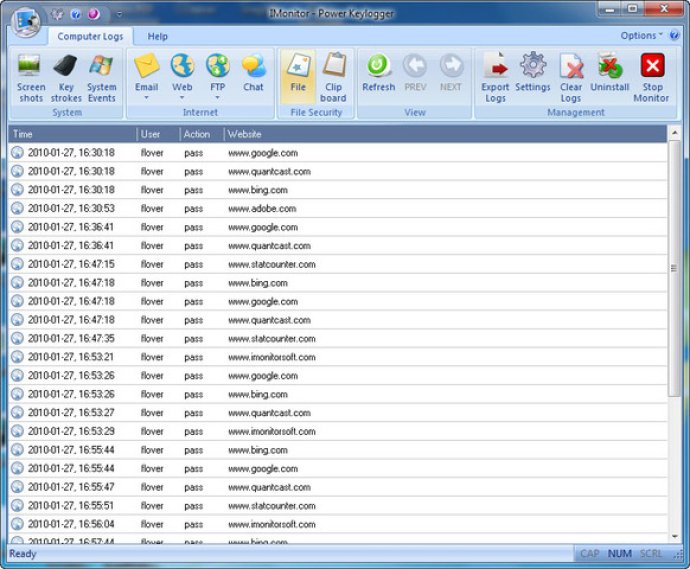 Power Spy For Office is a highly impressive and comprehensive spy software tool that has been specifically designed for office use. With this software, you can easily monitor and keep track of how your computer is being used while you are away. It is able to secretly log all documents, files, and clipboard data that have been used, as well as trace all removable disks that have been added or removed, and details on all files or folders that have been copied, modified, renamed, or deleted.

The software works in stealth mode, which means that it operates silently and smoothly, without being noticed by users. It can record all computer and internet activities of users, including email, instant messages (such as MSN and Yahoo Messenger), keystrokes, screenshots, websites that have been visited, searching keywords, files or programs that have been downloaded, and the applications that have been used.

One of the most beneficial features of Power Spy is its ability to block or filter unwanted content, such as harmful websites, unwanted chat conversations, or searching keywords. Additionally, the software has the ability to send logging reports in text format to a pre-set email box.

Parents can make use of this software to monitor their children's computer use, to ensure they are not engaging in secret chat conversations with adult strangers, or visiting inappropriate websites. Employers can also use the software to monitor their employees' computer usage, to ensure that they are being productive during working hours. The software can also be used in relationships, to monitor the computer activity of a spouse, or to investigate why a partner is working late on their computer.

Power Spy For Office has a range of excellent features that make it a useful tool for office use. These include the ability to work in stealth mode, the capacity to log all documents, files, and clipboard data that have been used, the ability to automatically capture screenshots of the entire desktop at set intervals, the capacity to log all login IDs and passwords with program window caption and time stamp, and the ability to log all incoming and outgoing instant messages, webpages, and emails.
What's New
Version 3.0: N/A