The software offers access control, usage management, and password protection features. Users can create a list of blocked or allowed programs to manage computer usage more efficiently.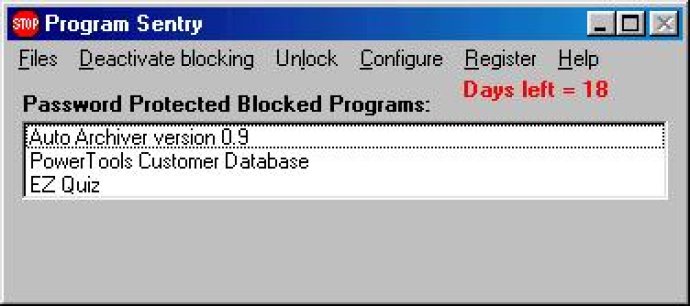 Program Sentry is a powerful software that provides access control and usage management. Upon installation, it offers two modes of operation: blocked program and allowed program. In the blocked programs mode, a list of programs to block is created. On the other hand, in the allowed program mode, a list of programs to allow is created, while all other programs not on it are blocked. The choice is yours to make based on your needs.

Both modes offer optional passwords for each program on the list. In the blocked program mode, without a password, a program is permanently blocked. However, with a password, the program can be unblocked. In the allowed program mode, without a password, a program is never blocked, but with a password, it would be blocked until the password is entered. This feature is particularly helpful when multiple people share the same computer, and each requires different program access.

It is essential to note that only an administrator password can be used to modify program lists or change their passwords. This security measure ensures that Program Sentry's installer has complete control over the computer's use. A supervisor level password can temporarily turn off all blocked programs, but it cannot be used to add or remove anything from the program lists.

Program Sentry can be most useful in a business setting where controls are needed to limit staff access to specific programs on company computers. It can also be useful in a family setting to help parents restrict children's use of certain programs. In summary, Program Sentry offers excellent control and security features for those who need it.
What's New
Version 2.1.0: Increased security, Vista compatibility