Get back access to your router/modem, using our free password recovery tool. It's an all-in-one solution designed to retrieve forgotten passwords quickly and easily.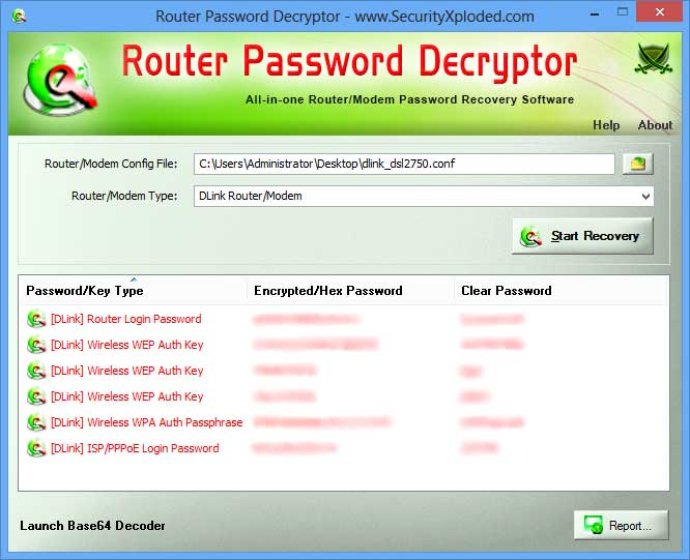 Router Password Decryptor is a software that allows you to recover internet login/PPPoE authentication passwords, wireless WEP keys, and WPA/WPA2 passphrases from your router/modem configuration file. This tool is completely free and provides instant results.

The software has the capability to support password recovery from various types of routers/modems such as Cisco, Juniper, DLink, and BSNL. Additionally, the software has a unique "Smart Mode" feature that is still experimental, which allows users to recover passwords from any type of router/modem configuration file. It detects various password fields from the configuration file which are only in XML format and will automatically try to decrypt those passwords.

The program also includes a quick link to Base64 Decoder, useful in case you have found a Base64 encoded password in the configuration file and automatic recovery is not working. Router Password Decryptor has a user-friendly graphical interface, making it easy for administrators and penetration testers to use the tool.

This software works on both 32-bit and 64-bit Windows platforms starting from Windows XP to Windows 10. Overall, Router Password Decryptor is an excellent tool for password recovery and is highly recommended for anyone in need of recovering login passwords or wireless keys from their router configuration files.
What's New
Version 6.0: Major 2017 Edition to recover Router passwords