This software manages, views and edits over 80 different image, 3D and audio file formats. It includes features like multi-folders thumbnail viewing, an image editor and a 3D viewer that supports popular file types such as max, maya, collada, obj, 3ds, and lwo.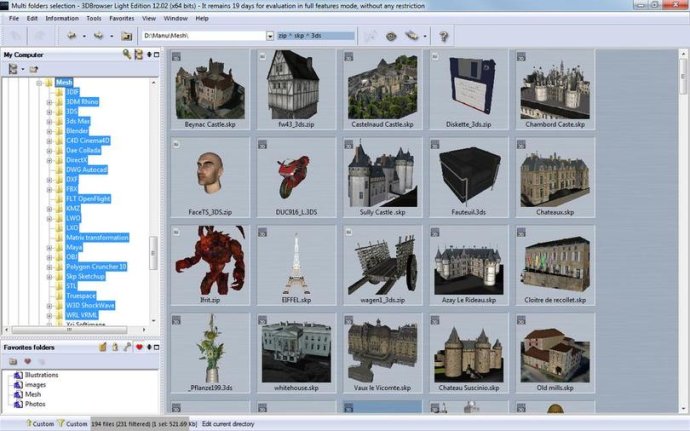 3DBrowser Light Edition (x32 / x64 bits) is an excellent browser designed to help you manage your 3D, photo, video and audio files with ease. As a media manager, it provides you with fast and powerful navigation capabilities with its thumbnails window, allowing you to browse through thousands of files effortlessly.

This user-friendly browser features customizable display modes that recognize over 60 images and 3D file formats, including FBX, DAE, SKP, C4D, 3DS, LXO, DAE, LWO, SKP, MAX, XSI, OBJ, STL, MA, JPEG, TIFF, PSD, BMP, GIF, AVI, SWF, and many more.

You can view your entire photo library at once using the multi-folders browsing capabilities, and a customizable display mode allows you to view the information you need, such as the width and height of your images or the title and the length of your MP3 files.

This incredible browser also comes with a built-in OpenGL viewer that allows you to open your 3D files, and you can display the scene using one of the many rendering modes available. You can clearly see the scene hierarchy and materials, and it supports textures or vertex color display, mesh subdivision, and slideshows.

The software's built-in viewer allows you to open your images or videos, and you can use a variety of tools to edit your images, including crop and resize, image conversion, rotation, color adjustment, image bending, filters, slideshows, video playing, and video image extraction.

This browser also allows you to organize your files efficiently by gathering information contained in your files, such as EXIF tags, faces and points number, and materials, and MP3 tags.

The browser's slideshows feature allows you to display your favorite photos or 3D meshes in full screen, and slides appear smoothly using fade in-out transition. You can also create a compact application that contains your slides, associate sound to slides, add texts, and present your documents in a really pleasant way.

Overall, 3DBrowser Light Edition (x32 / x64 bits) is an excellent software that offers a wide range of features that will help you manage your media files efficiently. Moreover, it also offers daily services such as archiving your CD's, importing images from a WIA or TWAIN device, renaming a set of files, replacing your desktop background image, and much more.
What's New
Version 12.51: FBX, Cinema4D, Sketchup support