InstaMonitr is a vital software that effectively manages content on large screens at corporate events, educational seminars, and important gatherings.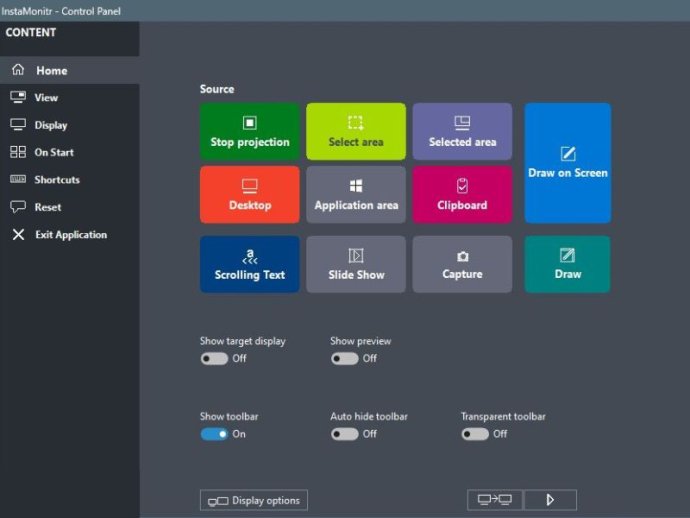 InstaMonitr is a powerful software that is perfect for managing large-screen projections in professional settings such as business presentations, conferences, seminars, or lectures. This software is an essential tool for anyone who wants to manage content effectively. InstaMonitr boasts a selection of features that have been specifically designed to make content management quick and easy. You can easily show the contents of your entire desktop or just a part of it, including scrolling text, windows area graphics, or capture an image.

The software comes equipped with two graphics editors to meet different needs. The quick editor is perfect for simple annotations and highlighting, while the advanced editor is perfect for more complex tasks such as drawing arrows, rectangles, and ellipses, adding text, and altering the color scheme. InstaMonitr offers 28 graphics filters at your disposal for even greater flexibility. You can even display the drawing tool's content to a second monitor such as a projector screen or TV, offering greater versatility for your presentation needs.

In addition to its impressive features, InstaMonitr is compatible with a wide variety of display options, allowing you to connect to virtually any available computer display option. Whether you're managing a presentation in a spacious conference room, giving a lecture in a classroom, or using it with a small display in your home office, InstaMonitr is an indispensable tool for effective content management.

In conclusion, if you're in search of reliable software to take control of your presentations, InstaMonitr is the perfect choice. Its powerful features, compatibility, and ease of use make it an absolute must-have for anyone who wants to make the most of their projections.
What's New
Version 16.0.0.58: Fixed memory leaks
Version 16: - Major update
- Added an application for drawing on the monitor
- Fixed memory leaks
- Slightly modified interface
- Improved scrolling text
- After the trial period, most of the program's features are retained
Version 15: - major update