ACDSee 10 Photo Manager enables efficient organization, editing, and sharing of photos with ease. The software allows simple viewing, enhancement, and fast sharing of images, providing a bundled solution for all your photo management needs.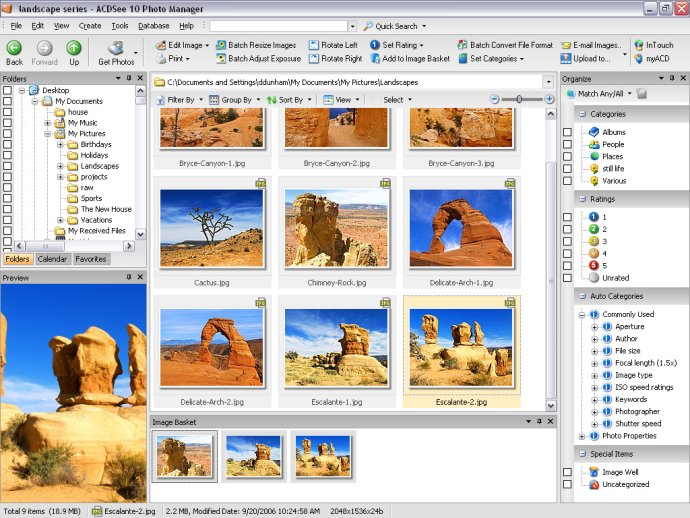 ACDSee 10 is the perfect solution for anyone who wants to organize, find, and share images quickly. This software provides instant access to all your photos, and you can view them on a virtual calendar, fill your screen with images or quickly browse through your thumbnails. Additionally, ACDSee's Quick View mode is the fastest way to view photos, whether you're opening an e-mail attachment or a file on your desktop. Moreover, the software makes it easier to check your thumbnails with simple hover previews.

Take control of your growing image collection by staying organized with smart features that automatically import, rename, and categorize your new images when your camera, iPod, camera phone or other external device is connected. You can then personalize your image collection by organizing your Windows® file folders, adding keywords, ratings and custom categories. The software can even organize images stored on CDs, DVDs, and external hard drives without copying them to your computer. With the PhotoDisc feature, you can add thumbnails of these images to your ACDSee database, so you can browse, manage and find them in a flash!.

ACDSee 10 also allows users to correct and enhance their photos with ease. You can correct common problems at the click of a button, eliminating red-eye, erasing blemishes, and making colors true to life. With ACDSee's advanced red-eye tool, you can get natural-looking results with custom eye colors to replace red areas. Furthermore, the software's patent-pending Shadow/Highlights technology can bring out details back into photos that are too light or dark without affecting areas that do not require adjustment. You can also apply effects like blur, saturation, and color to selected areas of your photos, enhancing the visual appeal of your pictures.

Sharing your favorite photos is easy with ACDSee 10. You can simplify online photo sharing with integrated uploading to sites like Flickr and Smugmug and post a photo widget on your website or blog, powered by ACDSee Sendpix online album. Moreover, the software allows you to design your own stunning PowerPoint slide shows with transition effects and sound, mix audio tracks, and sync songs to slides.

In summary, ACDSee 10 is an impressive image management software that is perfect for those who want to keep their image collection organized, correct and enhance their photos, and share them with others. Its smart features and easy-to-use interface make it an excellent tool for both amateur and professional photographers.
What's New
Version 10.0.219: Instant Previews, Export to PowerPoint, Unzip Archives, Upload to Flickr & more, Photo Widget for Web and Blogs, Virtual Calendar, Natural Red-eye