This software for web traffic analysis generates extensive data including visitor behavior, site appearance, referral sources, daily activity, and search engine performance. Its intuitive interface and quick execution make website monitoring effortless.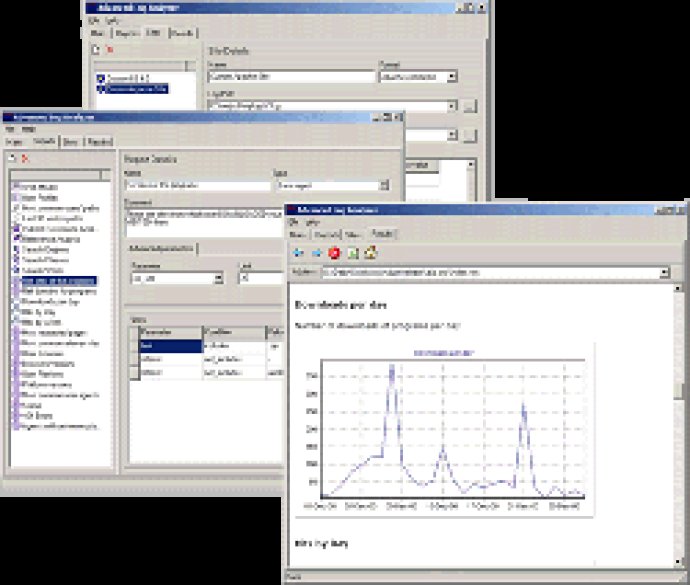 Advanced Log Analyzer is a powerful web site traffic analysis software designed to help website owners monitor and track web activity. With its capability to generate a wide variety of reports, you can easily view Visitor Referrer Sites, Downloads Per Day, Hits and Hosts Per Day, Most Popular Search Engines, Search Keywords, and many others. But what sets Advanced Log Analyzer apart from other tracking tools is its ability to create untraditional reports.

This software can recreate visitor paths from log files, create a web model of the site, and produce rich reports that will help you analyze and estimate advertisement costs. You can also use it to improve your web site's position on search engines and increase your business's income. In addition, Advanced Log Analyzer comes with a built-in SQL-like language that allows you to create configurable reports.

Downloading log files is easy with Advanced Log Analyzer's small FTP client that supports Apache and Microsoft Internet Information Server (IIS) log formats. Reports are displayed in HTML pages in your default browser, making it easier to organize and track your data. You can access Advanced Log Analyzer as a normal windows application with GUI, console application with command line parameters or CGI application on web server side.

Installation and use of the software is simple, and the package comes with good documentation. This software is highly recommended for corporate users with large websites, as well as personal site users who want to track their web traffic efficiently. With its fast, reliable and customizable features, Advanced Log Analyzer is a must-have tool for website owners who want to monitor and track web activity.
What's New
Version 2.2: Added yearly time reports and corrected minor issues.