Proxy Log Explorer generates real-time reports, making it the swiftest and most potent analysis tool for observing your corporate internet usage via proxy servers. It creates on-the-fly dynamic reports.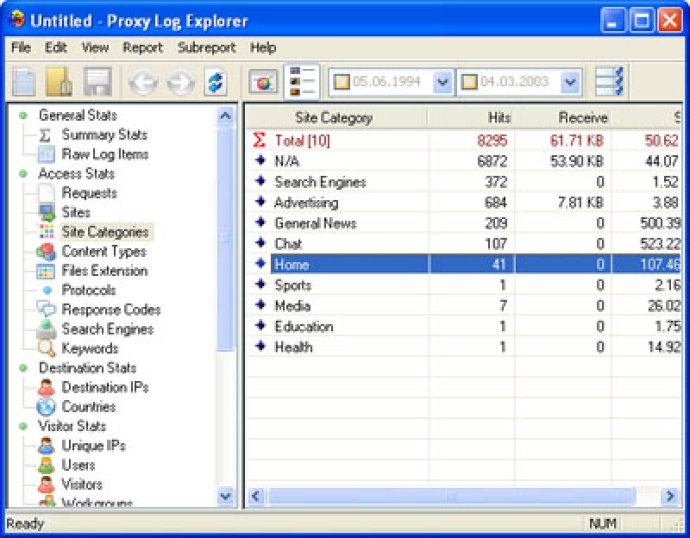 Proxy Log Explorer is an incredibly fast and powerful software application designed for monitoring the internet usage efficiency of corporate proxy servers. The program creates dynamic reports on-the-fly, providing immediate and accurate insights into your network. Furthermore, with just a right-click, you can easily access virtually any sub-report you need, making navigation and customization a breeze.

The program is designed with user convenience in mind, recognizing log file formats automatically and extracting compressed log files, processing multiple log files, and downloading log files from various sources. Its flexible system of filters allows you to customize your log reports exactly as required, ensuring that only the relevant data is displayed.

Proxy Log Explorer supports more than 5 proxy log file formats, including ODBC-compliant databases, and can even read compressed logs such as BZIP2, GZIP, ZIP, 7z, rar, arj, xz, txz, z, taz, lzh, lha, lzma, lzma86, bzip2, tbz, tbz, tgz, tpz, tar, jar, xpi, odt, ods, xlsx, xar, making it a versatile tool suitable for any network environment.

The user-friendly interface ensures that you can start using the software immediately after installation. The statistical data displayed in diagrams and tables can be easily printed, making sharing information even more accessible. In summary, Proxy Log Explorer is an excellent tool for monitoring network efficiency and providing in-depth analysis with unparalleled accuracy and flexibility.
What's New
Version 5.8.1: Proxy Log Analyzer