HttpLogBrowser is a free web analysis tool for IIS, Azure, and Apache log files. It provides statistics on all field values, allowing for easy filtering of log entries. The tool is user-friendly and easily accessible with a click on the desired value.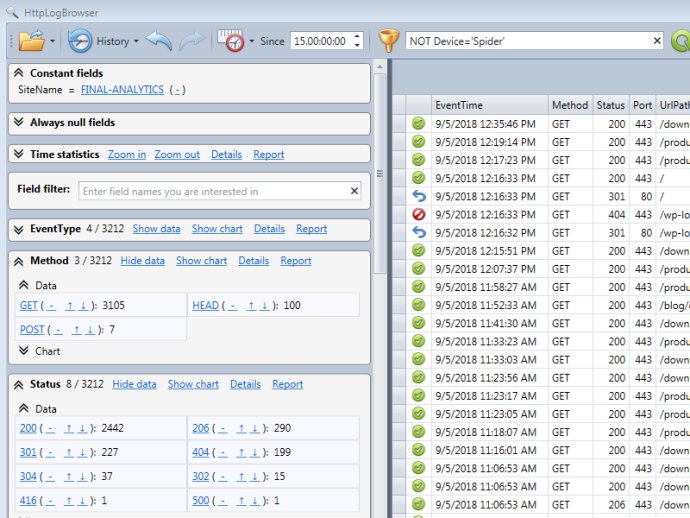 If you're looking to analyze HTTP logs from various web servers, then you might want to consider using the HttpLogBrowser. This is a free desktop application for Windows that can provide you with valuable insight into the activities on your web site.

It supports web servers hosted in Microsoft Azure, IIS or Apache, and it comes packed with useful features that can make your job much easier.

For instance, it has a statistic evolution chart that allows you to zoom in on specific periods of time, making it easy to detect abnormal or peak activities. With this tool, you can quickly determine the involved IP addresses or web pages, thanks to the automatically calculated field statistics.

Moreover, you can filter down the view to problematic web requests with just one click on a value. And if you're interested in determining the origin of your visitors and following their browsing history, the HttpLogBrowser can filter the view on a tracking cookie.

You can also extract any cookie or query parameter in a new field to facilitate your analysis and further filter down the web requests more easily with relevant information.

But that's not all. Here are some of the other features you can expect from the HttpLogBrowser:

- It removes fields with always the same value from the log view and statistics, displaying them in a specific panel to help you focus on what's changing.

- You can load up to 2 million log rows in memory for analysis.

- It allows you to define profiles for log files of web sites you regularly analyze.

- You can extract fields from the user agent string (e.g. browser, OS, device).

- It can extract the ASP.NET session ID and the PHP session ID from the cookie field.

- You can extract keywords for some search engines (such as Bing) from the referrer.

- You can extract the gclid for Google ads landing when auto-tagging is enabled.

- It can determine the country of client IP addresses.

- It can resolve client IP addresses to their host name.

- You can exclude requests to some kind of files from the analysis (e.g. css, png, json) to keep only requests to pages.

- You can ignore requests to some URLs on the web site.

- You can configure a tracking field to remember the origin of visitors.

Overall, the HttpLogBrowser is a powerful and user-friendly software that can help you get a better understanding of your web site's activities. Give it a try today!
What's New
Version 4.0: Newly available log rows are automatically loaded during a refresh
Improved IIS FTP logs analysis
Improved quick access to local IIS sites logs
Fields can be organized by categories
New welcome screen
Multiple log folders mode for load balanced web sites
Real time mode