Web Log Explorer is a log analyzer that creates dynamic reports in real-time. Its advanced functionalities enable users to navigate through their log files efficiently and comfortably. It's an ideal tool to explore website, proxy, or any type of log files without any restriction.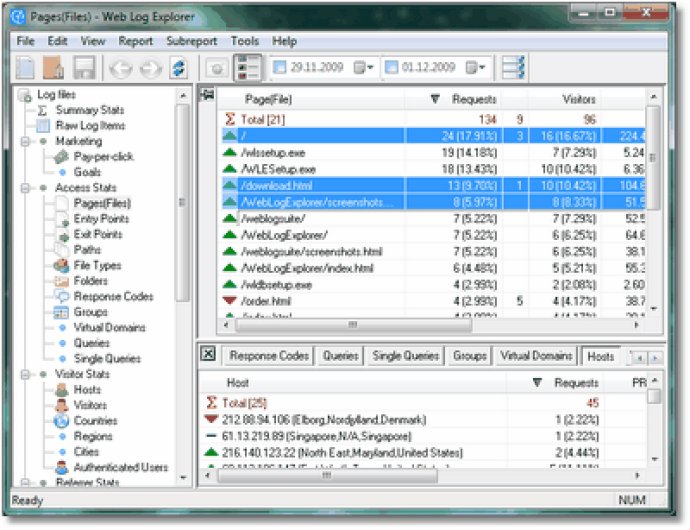 If you're looking for a powerful web log analyzer that can generate reports of any kind and display them for you, then Web Log Explorer may be just what you need. This software offers a system of filters that provides the ability to carry out deep analysis of visitor activity, giving you access to activity statistics, file access statistics, and information about referring pages, search engines, errors, visitor countries, and referring sites. Additionally, you will get complete information about search words and phrases and more.

One of the best features of Web Log Explorer is its flexible system of filters, which allows you to carry out deep analysis of visitors' activity. For example, you can get information about visitors who accessed a specific page or came from a specific URL. This level of detail can be incredibly helpful when you're trying to analyze your web site traffic to effectively market and increase the revenue generated by your website.

Web Log Explorer supports more than 40 log file formats, making it an extremely versatile tool. It has been tested with all popular web server programs, web proxies, firewalls, and media broadcasters. Additionally, it can recognize log file formats automatically and read 7z, rar, arj, xz, txz, z, taz, lzh, lha, lzma, bzip2, tbz, tbz, tgz, tpz, tar, jar, xpi, odt, ods, xlsx, xar, and lzma86 compressed logs so you won't need to unpack them manually.

Finally, a major advantage of Web Log Explorer is that it can process multiple log files and download log files from various sources, including the Web, FTP, ODBC compliant databases, and more. This functionality allows you to save time and manage all of your logs in one place. Overall, Web Log Explorer is a comprehensive and reliable log analyzer that can help you understand and optimize your website traffic.
What's New
Version 9.6.1: Log Analyzer