The CEIWEI CommMonitor software is a powerful tool for monitoring and capturing data from RS232, RS422, Modbus RTU/ASCII serial port protocols. It offers advanced filtering capabilities and is ideal for professionals in need of reliable monitoring and packet capture functionality.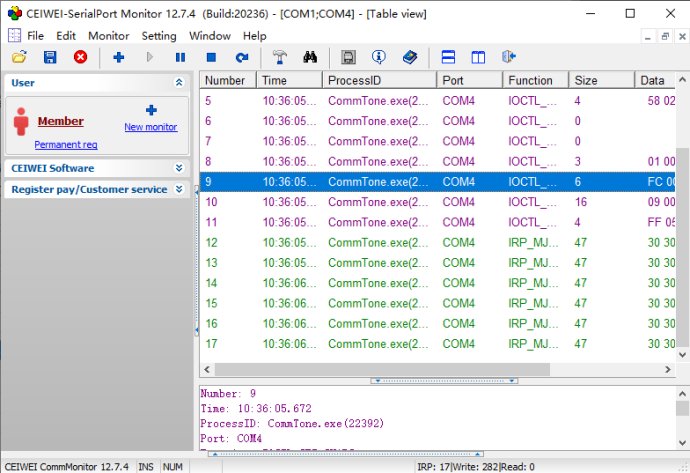 CEIWEI CommMonitor is a professional software program designed for monitoring and analyzing serial port activity, specifically for RS232 and RS422 protocols, as well as Modbus RTU/ASCII protocol. This tool is essential for tasks such as application or driver development, serial device testing, and optimization.

One of the key features of CEIWEI CommMonitor is its ability to monitor all serial port activity in the system without occupying the port itself. This means it won't interfere with other operations while still providing comprehensive tracking and analysis capability.

The software also offers various useful functions like filtering, search, and data export. With its powerful data interception capabilities, users can easily intercept data flow and control flow information on specified ports and export monitoring log data in HTML, CSV, and Ansi/Unicode text formats. Furthermore, CEIWEI CommMonitor supports automatic saving of data for further analysis.

CEIWEI CommMonitor provides a quick and efficient way to view changes in port status, such as baud rate, data bits, check digits, and stop bits. It can intercept both upstream and downstream data with high efficiency and speed. The output data can be displayed in decimal, binary, or string format, supporting different encodings, including Unicode/UTF8/UTF7. Additionally, the software fully supports Modbus RTU/ASCII protocol resolution function.

This software is compatible with Windows XP, Vista, Win7, Win8, Win10, and Win11 32/64-bit system platforms. There are different purchase options available, including a USB dongle version for convenience. For network version, users can utilize the WeChat mini program scan QR code login feature or enter the login code manually if there is no network connection. The purchase addresses for these versions can be found online.
What's New
Version 12.7.4: Refactored autosave (redirect to file) to support HTML, CSV, Ansi/Unicode text documents,

Optional file split storage method:

Support a single file without splitting;

According to the time range, you can optionally split the storage log files in hourly, minute, and second units;