A user-friendly software tool that enables connection with various databases like Oracle, MS SQL Server, Interbase, MySQL, and PostgreSQL. It allows browsing, modifying data, running SQL scripts, and exporting data. Full support is also available for ODBC connection strings, and printing of data is an added feature.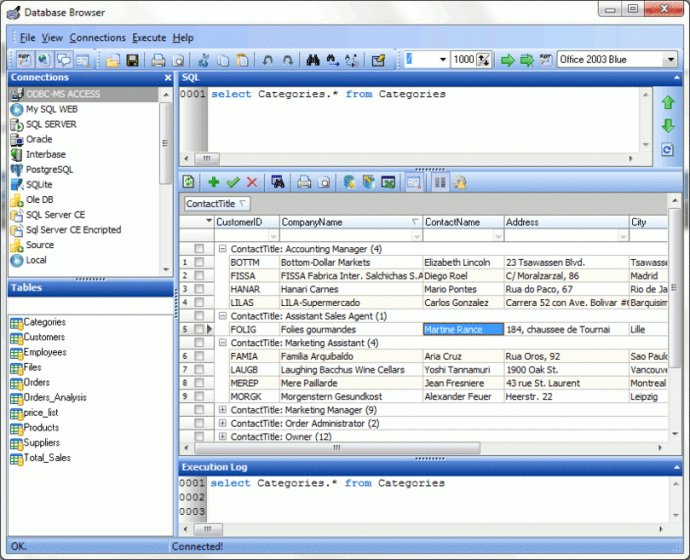 This software is a fantastic tool for anyone who needs to connect to any database and browse or modify data with ease. It also lets you run sql scripts, export and print data to suit your requirements. There are two versions of the software available: Standard and Portable.

The Standard version can be installed on any Windows PC, while the Portable version is designed to work with PortableApps Menu, which can be downloaded from www.portableapps.com. Portable software is a category of software that is suitable for use on portable drives such as a USB (thumb) drive or iPod, or a Palm PDA that's in "drive mode." The concept of carrying one's preferred applications, utilities, and files on a portable drive for use on any computer has evolved significantly in recent years.

The software works directly with a wide range of databases, including Oracle, MS Sql Server, ODBC, MySql, OleDB, PostgreSQL, SQLite, MS Sql Server Compact, Interbase, and Firebird. It also supports ODBC connection scripts and OleDB connection scripts, as well as an unlimited number of connections. Plus, the software features one-click switching from one connection to another, one-click table browsing, and data browsing.

With Data exports into CSV, Excel, Html files, execution history, Sql Builder with wide range of supported databases, execution log, and incremental table search, the software offers an excellent balance of features and usability. Overall, this software is a reliable tool for anyone who needs to connect to and work with databases regularly.
What's New
Version 5.3.2.13: + Improved: Working with Oracle databases
- Fixed: spelling corrections
Version 5.3.2.10: Fixed: Issues with command line interface
Version 5.3.2.8: Fixed: Issues with editing MS Access tables
Fixed: Issues with copying data from grids
Version 5.3.2.3: - Fixed: Issues with exporting data into csv and tab files from grids
Version 5.3.2.2: - Fixed: Issues with exporting very large grids into excel files
+ Added: Support For MongoDB
+ Third party components update
+ Improved : Incremental Search Functionality
+ Improved : Multiline select statement execution
- Fixed : Issues with updating data via table browser
+ Added MRU List
Version 5.3.1.10: - Fixed : Issues with updating data via table browser
+ Improved : Third party components update
Version 5.3.1.8: + Improved support for Clarion Topspeed ODBC driver
Version 5.3.1.5: + Third party components update
+ Improved support for DB2 database
Version 5.3.1.4: + Excel Import and export from data grids is much faster now
- Addressed issues with exporting data as excel from data grids
Version 5.3.1.2: + Use Excel Style Filters option was introduced
- Addressed issues with creating new connections