dbForge Source Control is an SSMS add-in that simplifies SQL Server database change management by utilizing various version control systems and servers, making it a user-friendly tool for tracking database changes.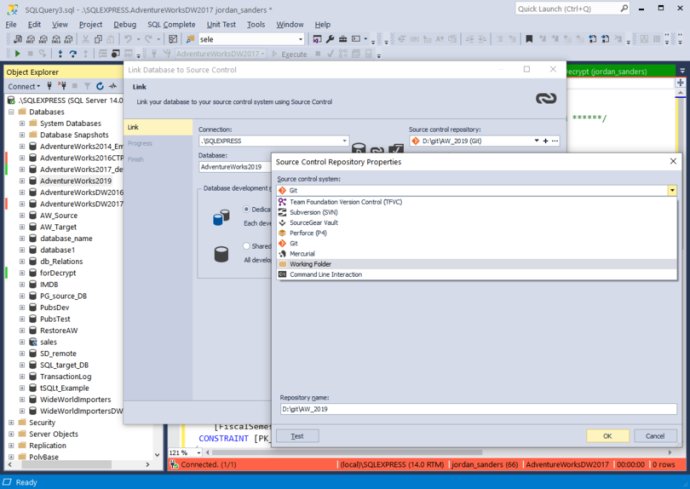 If you're a database administrator in need of change management software for SQL Server, then you might want to check out dbForge Source Control. It's an SSMS add-in that's fully compatible with a range of version control systems and servers like Azure DevOps Server, SVN, TFVC, Git (including GitHub, GitLab, and Bitbucket), Hg, P4, and SourceGear Vault.

The software is designed to deliver a comprehensive database change management experience with a focus on maintaining the integrity of your databases. You can version-control your database schemas and data, rollback changes, and even collaborate with other developers using either a dedicated or shared development model.

One of the standout features of dbForge Source Control is its ability to commit and revert changes with dependency awareness. You'll be able to track changes, detect who made them, view conflicts, and resolve data and schema inconsistencies visually.

You can plug the software directly into SQL Server Management Studio, streamlining your workflow and making it easier to automate your database development process. And if you're a fan of the DevOps approach to development, you'll appreciate the tools that dbForge Source Control provides to automate key tasks.

If you're looking for the latest version of dbForge Source Control, you can always find it on the official Devart website. With its broad range of features and compatibility with various version control systems, dbForge Source Control is worth checking out if you're in the market for SQL Server change management software.
What's New
Version 2.4.5: * Improved the behavior of data sorting in Data Editor
* Added the ability to resize the search text field
* Added a warning when trying to save read-only files with the applied changes
Version 2.3.47: * Redesigned data diff control
* Redesigned objects text diff control
* Integration into MS SSMS v18.9
Version 2.2.18: * New Git client is implemented
Version 2.1.27: * UI improvements implemented
Version 2.1.26: * UI improvements implemented
Version 2.0.196: * Several minor user reported bugs are fixed
Version 2.0: * Support Static Data
* Support for Visual Studio 2019
Version 1.4: Connectivity support for SQL Server 2019
Product now integrates into SSMS v18
Lots of Azure improvements implemented
Support for TFS 2018
Version 1.3: *SQL Server 2016 Service Pack 1 (SP1) new syntax support
*SQL Server 2017 new syntax support
*The latest SQL Server Management Studio v17.2 integration support
*Azure SQL Data Warehouse support