Football Scoreboard Pro v3 is a simple yet powerful software that turns your TV and computer into a professional football scoreboard. It is user-friendly, affordable, and guarantees to keep your players and spectators involved in the game.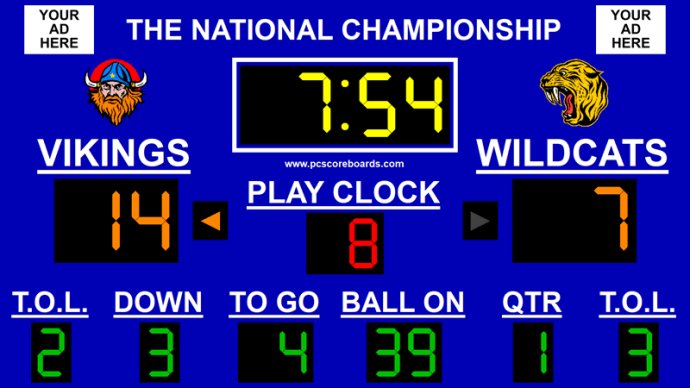 Football Scoreboard Pro v3 is a comprehensive software that enables users to transform their TV and computer into a football scoreboard. This easy-to-use and cost-effective solution is perfect for engaging players and spectators in the game. By combining our football scoreboard software with your computer and projector/display, you can have a complete scorekeeping solution.

Using PC Scoreboards is not only more versatile but also less expensive to maintain compared to physical scoreboards. With our solution, you have the option to use different scoreboards for sport-specific functionality while reusing the same display. This provides a more efficient and cost-effective scoring solution compared to online scoreboards.

The software offers a range of features that can be easily customized, including team names, logos, colors, and more. It is designed to be user-friendly, allowing users to start scoring within minutes of installation. In terms of affordability, PC Scoreboards are less expensive to purchase and maintain than traditional scoreboards. Furthermore, the software caters to the scoring needs of different sports and levels.

One of the key advantages of PC Scoreboards is the ability to reuse the same display and PC for multiple sports. This eliminates the need for separate equipment for each sport, saving users both money and space. Additionally, users can try out the software for free by downloading a full copy.

Football Scoreboard Pro v3 includes various elements such as a game clock, timeouts, play clock, scores, team names, team logos, quarter/period, possession, TOL/TO, down, to go, ball on, additional pictures, event/venue title or picture, and a video player.

The Control Screen acts as an intuitive operator console for controlling the scoreboard. With 1-touch buttons, operators can easily and accurately control the scoreboard. This screen is only visible to the operator, ensuring that spectators do not see any mouse or keyboard input.

The Play Clock Screen allows the play clock to be displayed on a separate screen, such as behind end zones. This screen can also show the period time and is synchronized with the Control and Display screens.

Lastly, the software includes a video player feature that allows users to play their own videos on the scoreboard during breaks in the game. This feature adds an extra level of customization and entertainment to the overall scoreboard experience.

In conclusion, Football Scoreboard Pro v3 offers a comprehensive and user-friendly solution for transforming your TV and computer into a football scoreboard. With its customizable features, ease of use, affordability, and sport-specific functionality, this software is a great option for scorekeeping during football games.
What's New
Version 3.0.0: New major version