OOTP 19 is an award-winning baseball simulation software that allows you to create your own baseball world with official licenses, real/fictional rosters, historical sims, drafts, trades, scouting, and more. Try the free demo to experience unparalleled flexibility.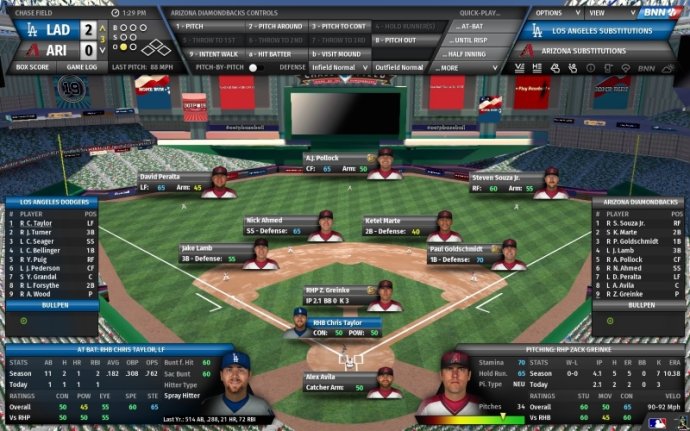 As a baseball fan, you're going to love Out of the Park Baseball 19 - the latest edition of the world's best-rated sports strategy game franchise. Officially licensed by MLB, MiLB, and the MLBPA, the game is an astonishing accomplishment according to Boston Red Sox Principal Owner John W. Henry.

Step into the shoes of a GM and/or manager and take control of your favorite baseball team. Build the team the way you want with complete freedom. Choose your favorite 2018 MLB team to start a new career or go back through almost 150 years of baseball history and run any team from the past. You can even create your own fictional baseball universe or compete in online leagues against other OOTP players.

The brand new 2018 MLB roster set includes all projected Opening Day MLB rosters, the complete minor league system down to the rookie leagues, and future draft classes. 8 international leagues, including Japan, South Korea, Taiwan, Australia, Italy, The Netherlands, Mexico, and Cuba, are available with accurate and projected 2018 rosters.

Discover new talents, draft the next superstar, negotiate with free agents, enter trade talks with other teams, and build your dynasty - you have the reins to guide a franchise into an infinite future as a manager. Dive into hands-on management and set your team's lineups, pitching staffs, in-game strategy, and be in charge from the dugout. You can oversee your league at a high level or play out each game in the redesigned 3D game mode, managing play by play, or even pitch by pitch - it's all covered in OOTP.

Out of the Park Baseball 19 is the perfect game for baseball enthusiasts, and if you're up for the challenge, it's time to make your move!
What's New
Version 19.6.53: 2018 version with full Major League 2018 rosters, redesigned interface, improved 3D gameplay mode and much more.