iCollections is a top-rated desktop organization app for Mac. It has a sleek design and unique features to help users keep their desktop neat and free from clutter. Stay organized with this expertly crafted software.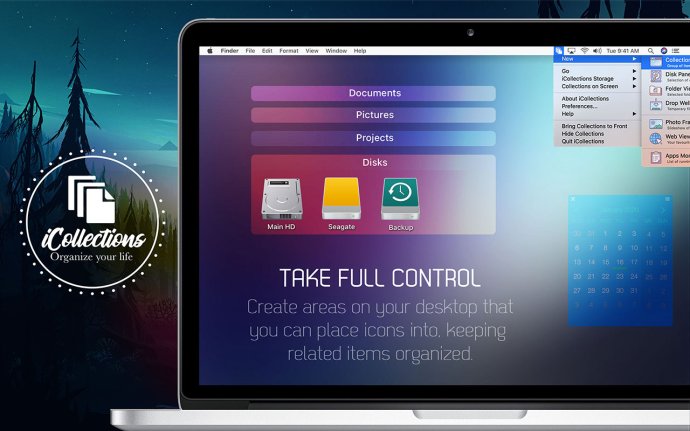 I recently had the opportunity to test out iCollections, an application designed to help Mac users keep their desktops organized and efficient. I was immediately impressed with its sleek design and user-friendly interface, which elevated my organization process to a whole new level. Not only did it make my desktop look neat and attractive, but it also enhanced my overall user experience.

To use iCollections, users will need macOS X10.12 or a higher version, and I was pleased to discover that it is fully compatible with macOS Catalina. One of iCollections' standout features is the ability to create collections for organizing desktop items, disk panels for disk drives, folder views for folders, and even photo frames for favorite images. I found it incredibly convenient to access all these features directly from my desktop.

The highlight of iCollections, in my opinion, is its ability to effortlessly organize icons, files, and folders with just a few clicks. I appreciated the ease with which I could group them according to my preferences, making it significantly easier to locate the items I needed. Getting started with iCollections is a breeze - simply create a new Collection by accessing the iCollections main menu from the system toolbar.

Another impressive aspect of iCollections is its seamless integration with macOS. The app launches immediately upon startup, allowing users to dive right into their work without delay. Additionally, iCollections offers a Disk Panel feature that facilitates viewing all the drives connected to your Mac, making it simple to filter and access the desired disks.

iCollections goes above and beyond by providing an easy way to access favorite websites. Rather than starting from scratch and opening a web browser, users can conveniently view and stay connected with their most frequently visited sites directly from the app.

Lastly, iCollections offers an abundance of customization options for its appearance, ensuring that users can tailor it to their liking. From changing colors to selecting different themes, the app provides ample opportunities for personalization.

Overall, if you are in search of an application that will not only assist in keeping your Mac organized but also make it visually appealing, I highly recommend giving iCollections a try. It exceeded my expectations and is definitely worth checking out.
What's New
Version 8.1: Improved the speed of copying items to/from Collections
Improved memory management while running in the background
Compiled with the latest macOS Ventura API
Set custom colors for icon badges
Locate a file in a Collection by typing its name
Set a HotKey for a Collection window
Version 8.0: Labels only mode
Collections List improved
Small improvements and features requested by users added
Sound for item activation added
Time delay for Auto-Shrink and Drawers activation added