Virtual Girl HD DeskMates offer stunning girls stripping on your PC desktop. With morning greetings, appointment reminders, and anytime dance and strip performances, they are the ultimate desktop companions.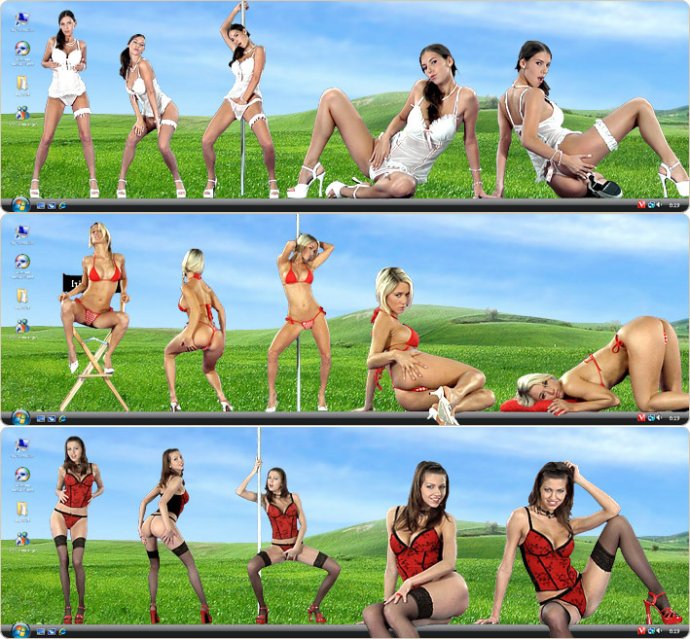 Virtual Girl HD DeskMates is a dynamic and captivating software that lets you enjoy girl strippers on your computer desktop. The application is absolutely free and accommodates over 380 different girl sets of Blondes, Redheads, Brunettes, Asians, Brown, Lesbians and more, all stripping and caressing themselves on your desktop.

The girl strippers in Virtual Girl HD DeskMates are your digital companions, greeting you with a friendly "hi" each morning, and remind you of your important appointments. Whenever you want them to, they dance and strip for you, right on your computer screen, while you go about with your regular computer usage.

Basically, the whole Virtual Girl HD DeskMates program is operated from the toolbar, giving you quick and easy access to each strip dancer of your choice. And the great news is that with the High Definition feature, the models strip in incredible detail, providing you with crisp edges and enough resolution to see all the subtle details of each stripper's performance.

What makes Virtual Girl HD DeskMates unique, and unbeatable among its kind, is its ability to offer stunningly realistic and detailed HD visuals of each girl stripper. The entire HD program is also absolutely free, with no adware or spyware, certifiably 100% clean.

Virtual Girl HD DeskMates is very easy to use, and guarantees unlimited daily free updates, always providing you with a fresh new lady deskmate to make your day. Try it out today, or better yet, download the Virtual Girl HD DeskMates software now to see it for yourself.
What's New
Version 2022.10.5: Minor bug fixes