Virtual Girl Desktop software allows users to have hot exotic dancer girls on their computer screens. The software features one or more girls that tease, excite, and play with the user. Install now to enjoy the sexy virtual experience.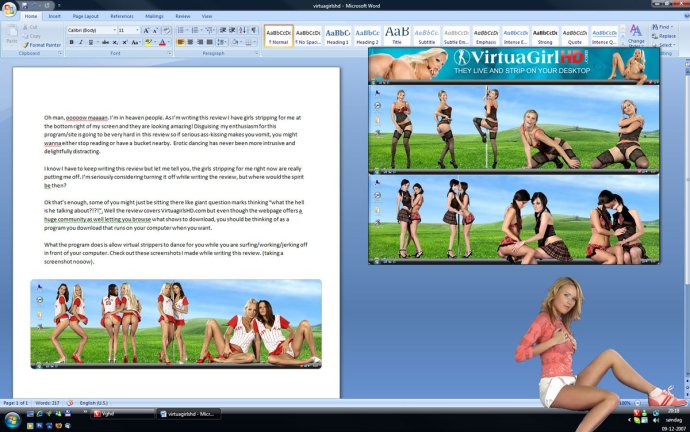 Looking for a way to spice up your computer desktop? Virtual Girl Desktop software may be just what you need! With this program, you can have one or more hot and sexy virtual girls dancing and stripping right on your screen.

This software boasts some of the most beautiful girls in the world, all stripping in incredible high definition quality. You can even customize your experience by choosing from a variety of girls with different hair colors, races, and sexual orientations.

With over 400 different girls to choose from, you'll never run out of options. Best of all, new girls are constantly being added to the Virtual Girl Desktop lineup. You'll have access to both video clips and picture sets of each girl, so you can enjoy their performances whenever you want.

But don't worry - if you need some practicality with your playfulness, these virtual girls can also serve as helpful reminders about your schedule and appointments. And, of course, they'll always be available to caress and entertain you.

Overall, Virtual Girl Desktop is an awesome piece of software for anyone looking to add some excitement to their computer experience. So go ahead and install it today - with completely nude girls to enjoy, you're sure to have some fun!
What's New
Version 3.9.27: Minor bug fixes