Macro Toolworks is an efficient macro software that enables users to create and execute automated tasks with ease. With over 300 macro commands, macro recorder, scheduler, and numerous triggers, it reduces manual effort, speeds up processes, and minimizes errors.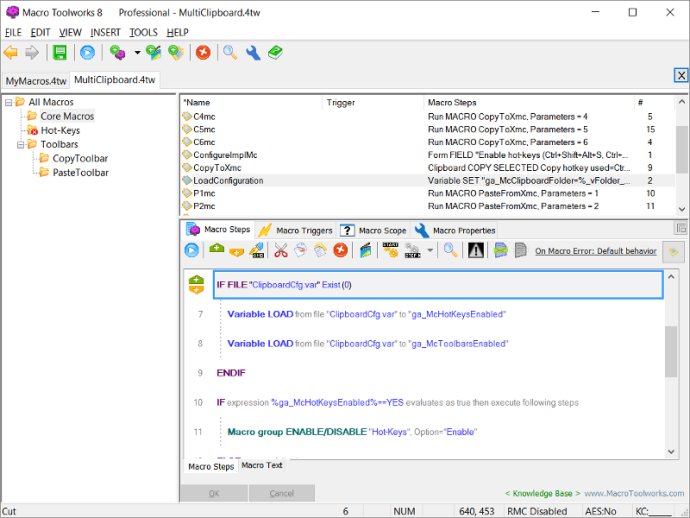 Macro Toolworks is an exceptional, all-in-one automation software designed for Windows operating systems. It offers users the ability to effortlessly automate repeated, tedious tasks via either manually-created macros or those that have been recorded with the mouse and keyboard macro recorder.

This full-featured macro editor comes equipped with over 300 commands giving users the ability to manipulate a wide array of elements including files, windows, downloads, texts, XML, Excel, variables, and more. You can create macros that automatically perform tasks based on images found on the screen, changes in file activity, screen pixel color change, hot-keys, or other macro triggers including a time macro scheduler, windows activity, file create, delete or change, hot-keys, text shortcut, Windows service state change, and more.

Macro scopes can be created globally, which enables macro triggers to work in all applications, or specific to select application(s). Macros can be played back at user-defined speeds and can also be run step-by-step for easy debugging. Should users need to make any manual adjustments to the macros, there is also a built-in macro recorder that captures keyboard and mouse activity. This activity can then be reviewed, edited, and tweaked as needed.

The macro editor provides an option to edit macros either in plain text, or visually as a series of easy-to-follow steps. Macros are saved in files, enabling easy sharing of macros within a team, and the ability to maintain individual macros. Placing the macro file to a cloud-based storage (Dropbox, OneDrive, etc.) or network-shared folder allows users to use the same macros across multiple devices.

This desktop automation software features a friendly user interface, which enables users to easily create and manage macros. Import/export, drag& drop, search, copy/paste, and other typical operations are available through its clean interface. Macros created using Macro Toolworks make it possible to automate almost all repetitive tasks, either by simulating mouse and keyboard activity, or by executing built-in commands. Its built-in time-saver makes tasks done automatically, faster and removes the potential for human error. Therefore, users can easily and quickly perform tasks without wasting time and improving their productivity.
What's New
Version 9.4.5: Many fixes and a few functionality improvements.