MB Australian Astrology software is an interactive and impressive astrology tool that determines your Australian animal personality traits based on your birth date.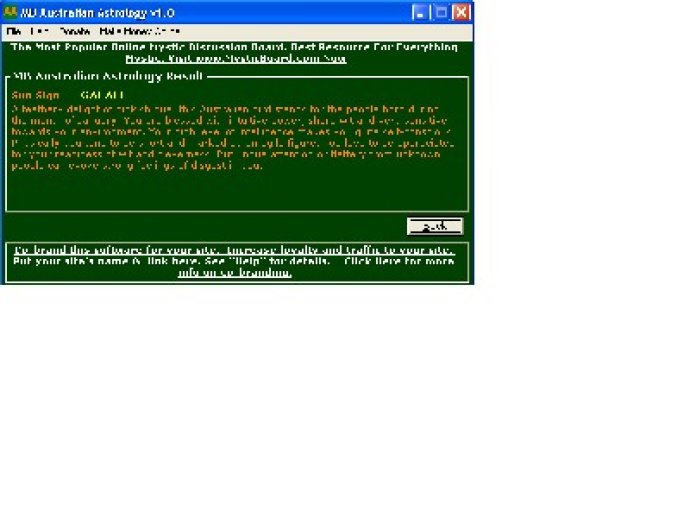 MB Australian Astrology is a fascinating software that delves into the intricate depths of astrology. The program offers a unique insight into your Australian animal personality traits based on your date of birth. Not only that, but it provides insightful hints about the merits and demerits of different signs, allowing you to analyze the characteristics of those around you.

One of the program's key features is its comprehensive guideline on the compatibility of different signs with each other. This allows you to gain an in-depth understanding of how different individuals may interact with each other based on their astrological signs.

In addition to this, MB Australian Astrology provides a thorough guideline about the Australian parallels of western zodiac signs. This adds another layer of complexity to the program, allowing users to gain a more comprehensive understanding of astrology.

The software is unique in that it is centered around twelve different signs named after twelve different Australian animals. Although some of these animals may seem obscure, such as the Dingbat or Wombat, the detailed readings provided by the software clarify their significance.

Utilizing the knowledge of native tribes cultivated over many generations, MB Australian Astrology provides stunningly accurate descriptions of people born during different seasons of the year. It reveals the influence of astrological signs on our personalities in remarkable detail.

Overall, Australian Astrology is a fabulous tool for gaining a deeper understanding of oneself and others. Whether you're a novice or an experienced astrology enthusiast, this software has something for everyone.
What's New
Version 1.15: Run time error 13 and application running error corrected.
Version 1.0: N/A