NTP Time Server Monitor is a software that enables users to easily configure, monitor and control their local NTP services via an intuitive graphical user interface. It provides real-time status updates and displays information on both internal and external NTP services.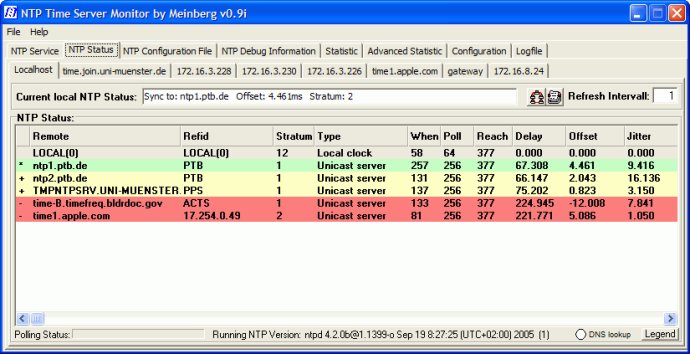 The NTP Time Server Monitor is a user-friendly software designed for controlling and configuring the NTP service for Windows. It offers various features and abilities that aid the handling of the NTP service.

One of its features allows users to switch effortlessly between different configurations (ntp.conf files). This feature is very useful if different configurations need to be tested, or for switching between testing and operating mode.

Another handy feature of this software is its capability to change service settings without the need to open the device manager each time. This not only saves time but also ensures ease of use.

The software also facilitates the extraction of NTP-related application log entries and displays them separately in a table. Users can filter the entries by categories, making it easy to identify and address issues.

Besides displaying the current status of the running NTP service, the software also offers a graphical output of the command "ntpq -p," showing the current offset, stratum value, and the selected synchronization source in a status string. The status updates automatically and can be set to the desired refresh interval.

Furthermore, the NTP Time Server Monitor enables users to configure external NTP servers which are also queried by the software, and their status displayed. The configuration file of the ntp service (ntp.conf) can also be edited within the program, eliminating the need to search for the right file in the possible locations within the Windows or NTP directory. If any changes are made by the user, the software prompts whether the service should be restarted.

Another noteworthy feature of this software is its ability to read the system variables and association vars of the service, which are then displayed in a textbox for analysis.

Finally, users can view loopstats files in a graphical component and extract various statistics, including the period of logging, the number of entries, the start, and stop time, and the minimum and maximum values of the offset and frequency.

In conclusion, the NTP Time Server Monitor software is a must-have for any user looking to control and configure the NTP service for Windows in a hassle-free manner.
What's New
Version 1.04: N/A