LanTime Analyzer is a tool for managing and monitoring PresenTense Time Clients. With centralized and remote configuration capabilities, it can check the time clients and initiate alarm actions if a bigger than assigned time difference is found.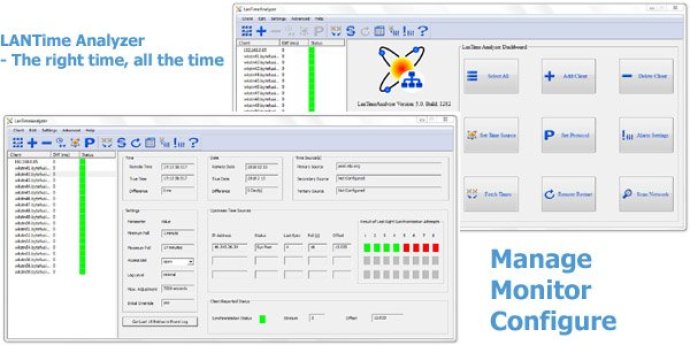 If you're in need of a tool to centrally and remotely manage, monitor and configure PresenTense Time Clients, then LanTime Analyzer is the application for you. With its ability to poll and execute alarm actions upon detecting significant time differences, it adds an extra level of security to mission critical applications.

This software streamlines the process of managing, monitoring and configuring PresenTense Time Clients. Its user-friendly interface allows you to easily navigate and perform tasks from a remote location. Additionally, the capability to configure alarm actions makes it easy to stay on top of any relevant issues or discrepancies.

Overall, LanTime Analyzer is a reliable and efficient software that provides an excellent way to oversee and manipulate PresenTense Time Clients. Its usefulness and ease-of-use make it a valuable asset for anyone in need of this type of functionality.
What's New
Version 5.0: Complete rewrite with major expansion of features.