Chronos Atomic Clock Synchronizer is an efficient utility designed for users who require precise timing on their computers. This program connects to multiple atomic clock servers and synchronizes your system clock with accurate time obtained from the servers.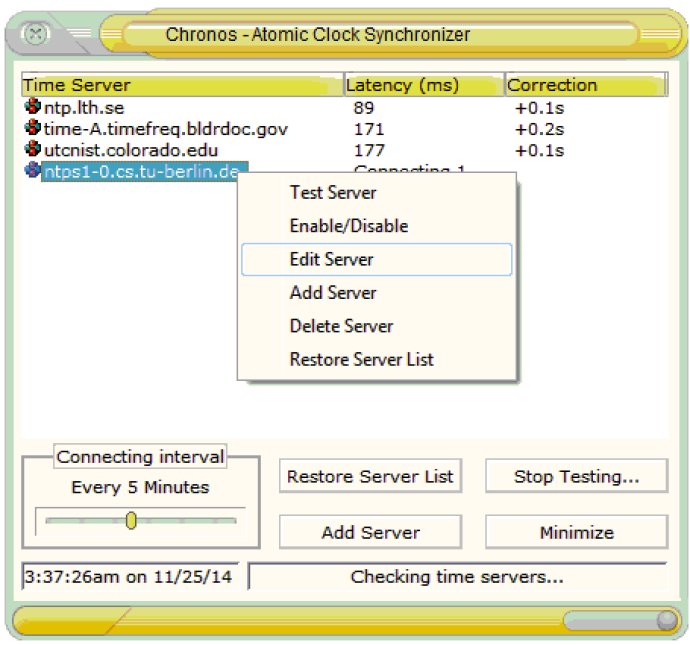 If you are someone who relies on precise timekeeping on your computer, then Chronos Atomic Clock Synchronizer is the utility for you. With this program, you can connect to a variety of atomic clock time servers to ensure that your internal clock is synchronized with accurate time.

What sets this tool apart are its numerous benefits. One of them is that it connects to multiple atomic clock time servers, which means that you have more options to choose from. Additionally, you can add any time server you may need to the list.

The algorithm used by Chronos Atomic Clock Synchronizer has been improved to better calculate differences between servers, ensuring that you have the most accurate time synchronization possible. Furthermore, it can calculate delays and synchronize in less than 0.1 seconds.

Other noteworthy features of this utility include the fact that it starts up minimized to the tray, which means that it won't be intrusive or take up too much space on your screen. Also, it has an updated server list, which is essential for maintaining accurate time. The shorter latency time for synchronizing and faster connection to sync servers is a significant benefit that you will appreciate.

Overall, Chronos Atomic Clock Synchronizer is an exceptional tool, which anyone who values accurate timekeeping needs to try out. With its numerous benefits and features, it remains a popular choice among computer enthusiasts.
What's New
Version 5.4.0: Updated database and new features added.