Atomic Time Synchronizer keeps your PC clock accurate by periodically syncing it with NIST atomic time servers or with other computers. It is a helpful and convenient utility.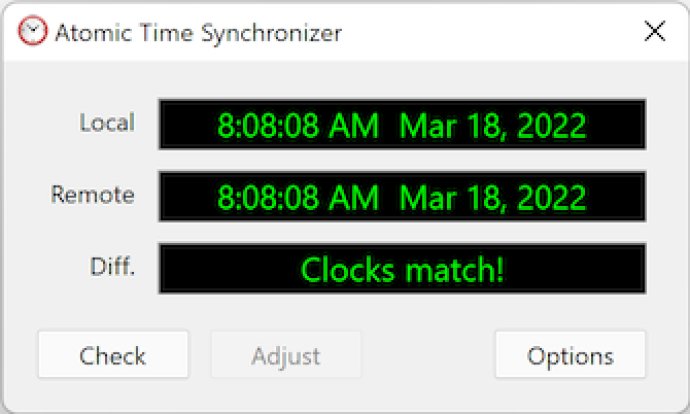 If you're looking for a reliable software tool that can help you keep your PC clock accurate, then look no further than Atomic Time Synchronizer. This handy and intuitive utility is designed to periodically check and synchronize your computer clock with NIST atomic time servers, ensuring you always have the most precise and up-to-date time possible.

One of the best things about Atomic Time Synchronizer is its simplicity. With just a few clicks, you can set up the software to automatically check your PC clock at regular intervals and adjust it as needed. You can also specify which NIST servers to use for synchronization or even choose to synchronize time between computers on your network.

Once you've set your preferences, Atomic Time Synchronizer runs silently in the background, ensuring your clock is always accurate and reliable. It's a great tool for anyone who needs precise time for their work or personal use, and it's especially useful for those who work across multiple devices or computers.

Overall, Atomic Time Synchronizer is a reliable and user-friendly software tool that does exactly what it promises. If you need accurate time synchronization for your PC, then this is a great program to consider. Highly recommended!
What's New
Version 10: Various enhancements