This software is a Windows time server that supports NTP/SNTP protocols and GPS clock drivers. With a quick installation and easy configuration, it ensures high performance and sends alerts via email and SysLog. It achieves quick and accurate time synchronization with a startup time of just 30 seconds.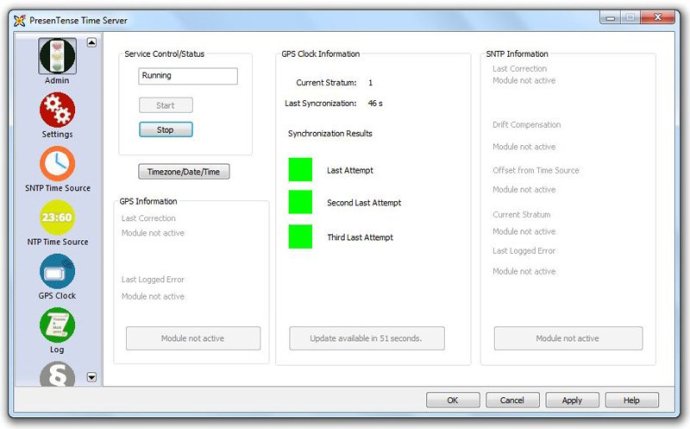 I recently tried out the PresenTense Time Server software, and I must say it is an excellent choice for individuals looking for accurate time synchronization on Windows. This software supports both NTP and SNTP protocols and stands out with its high-performance capabilities. It can easily merge with primary time sources like atomic clocks on the internet or internal GPS receivers, making it ideal for those who want to provide time services to both LAN and WAN clients.

One of the standout features of PresenTense Time Server is its support for various GPS and Radio hardware clocks through the serial/USB port. This ensures that you can rely on accurate time data regardless of your setup. Even if your internet connection goes down or the reference clock fails, the software has a Free Run feature that enables it to maintain precise time.

Achieving extreme accuracy is made easy with PresenTense Time Server's algorithmic filters. During the installation process, default time servers are automatically configured, saving you time and effort. Plus, the software goes above and beyond by sending email and SysLog notifications if any errors occur, which adds an extra layer of confidence in its reliability.

Even if your local GPS hardware fails, PresenTense Time Server has you covered with its fallback to an internet-based time server. It also boasts robust COM port error handling, including USB disconnect recovery, making it suitable for use in challenging environments where reliability is crucial.

To prevent time drifts that can occur when modern motherboards reboot, PresenTense Time Server offers configurable updates to the CMOS/BIOS clock. This feature ensures that your time remains accurate throughout any system restarts.

Overall, I highly recommend PresenTense Time Server for anyone in need of a reliable and high-performance Windows time server. Its exceptional performance, outstanding features, and reliability make it an excellent choice for accurate time synchronization.
What's New
Version 5.1.1646: - Resume from Sleep or Hibernate detected and service restarted to speed up synchronization
- Timeout of all NTP time sources detected and service is restarted to attempt recovery
- Updated service to allow more central management and monitoring by LanTimeAnalyzer Version 5.0 and above
Version 5.1.1646.8: - Resume from Sleep or Hibernate detected and service restarted to speed up synchronization
- Timeout of all NTP time sources detected and service is restarted to attempt recovery
- Updated service to allow more central management and monitoring by LanTimeAnalyzer Version 5.0 and above
Version 5.1.1646.7: - Resume from Sleep or Hibernate detected and service restarted to speed up synchronization
- Timeout of all NTP time sources detected and service is restarted to attempt recovery
- Updated service to allow more central management and monitoring by LanTimeAnalyzer Version 5.0 and above
Version 5.1.1646.6: - Resume from Sleep or Hibernate detected and service restarted to speed up synchronization
- Timeout of all NTP time sources detected and service is restarted to attempt recovery
- Updated service to allow more central management and monitoring by LanTimeAnalyzer Version 5.0 and above
Version 5.1.1646.5: - Resume from Sleep or Hibernate detected and service restarted to speed up synchronization
- Timeout of all NTP time sources detected and service is restarted to attempt recovery
- Updated service to allow more central management and monitoring by LanTimeAnalyzer Version 5.0 and above