Solo Whist Deluxe is a Windows 10 simulation software that enables one player to engage in a Solo Whist game with three computer-controlled opponents. It randomly deals all four hands, displaying the final score after play.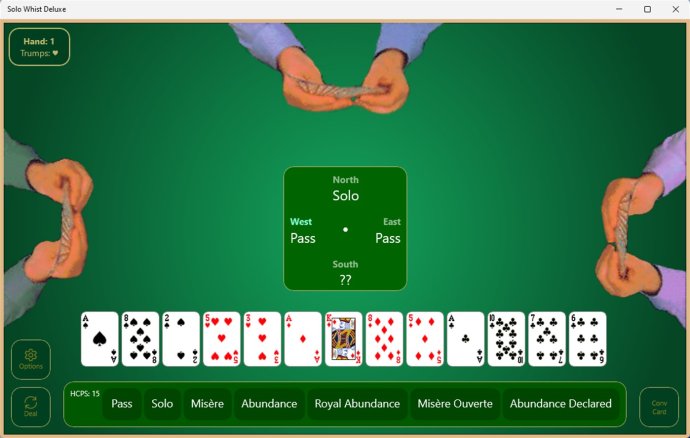 If you're a Windows 10 user and a fan of solo whist, then the Solo Whist Deluxe software is definitely worth checking out. Designed for a single player, it offers a complete random deal simulation of the classic game against three computer-controlled opponents.

One of the most impressive features of Solo Whist Deluxe is its realism, with all four hands displayed at the end of play, along with the final score. As an app available direct from the Microsoft Windows Store, it's easy to download and try for free, enabling users to get a feel for all the functions on offer.

So what are these functions? Well, the random deal comes with rebid and replay options, and the hand can also be revolved, making for a truly immersive solo whist experience. Additionally, all hands can be displayed at any stage and each of the other hands may be permanently displayed.

Users can save a deal quickly with dealer information at any time, and there's even a high point deal facility built in. Other impressive features include claim and concede tricks, as well as a print hand facility for keeping a physical record of all the action.

Overall, Solo Whist Deluxe is an excellent choice for anyone looking for a realistic and engaging way to play solo whist on their Windows 10 device. With all the features you'd expect from a Deluxe experience, it's definitely worth checking out.
What's New
Version 2.0: New release