This software allows for clock synchronization on desktop or notebook computers through TCP/IP networks. It can function as a client or server and supports time protocols like RFC-868.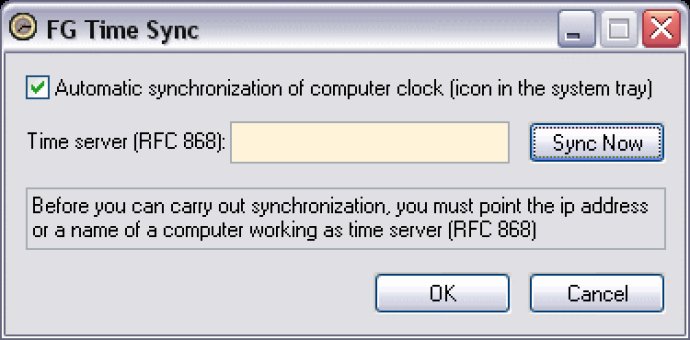 If you're looking for a reliable way to keep all of your computers on the same time, then the FG Time Sync utility is definitely something you'll want to take a closer look at. This handy little tool allows you to easily synchronize the clock on your desktop PC or notebook with a time server that's available on TCP/IP networks, such as the Internet or LAN. And best of all, it can function as either a client or server, depending on your needs.

The protocol currently supported by FG Time Sync is the time protocol, which is outlined in RFC-868. This means you can trust that the software is up-to-date and reliable, ensuring that all of your devices will be in sync with each other. And because it's a piece of real freeware, you don't have to worry about any hidden adware or spyware programs lurking in the background. There are no trials or restrictions to contend with, and the small file size can be downloaded in seconds.

One of the best things about FG Time Sync is how easy it is to uninstall if you decide you don't want it anymore. It's a lightweight program that won't take up much space on your hard drive, and it won't slow down your machine or interfere with other processes. So if you're looking for a fast and efficient way to keep all of your computers on the same time, then FG Time Sync is definitely worth checking out.
What's New
Version 1.0.0.4: FG Time Sync (updated for rights in Vista).