Protect your child on the internet with content filtering software. This program monitors and filters every website visited to ensure child safety. In the event of any inappropriate content, it will be immediately blocked.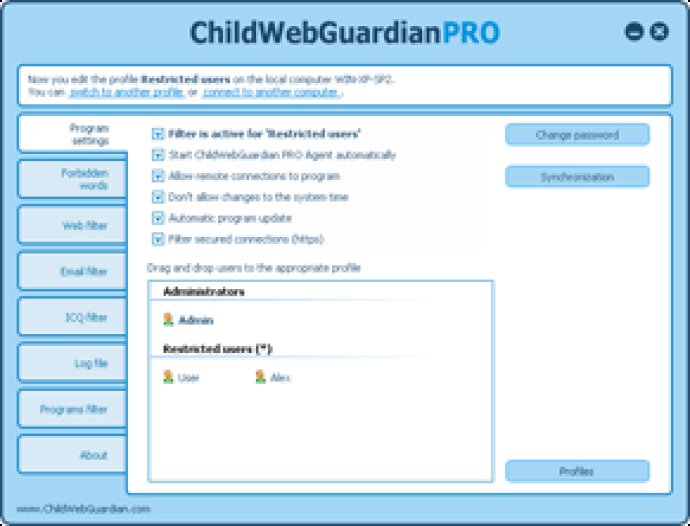 ChildWebGuardian PRO is a software package designed to ensure the safety of children on the internet by filtering out inappropriate content. This program offers a comprehensive suite of controlling functions that form obstacles to stop obscene information from the internet from reaching your child. Before any page is shown to your child, it is checked by all of these functions.

One of the key advantages of ChildWebGuardian PRO is its ability to analyze the content of a page rather than just its URL. This approach is far more effective than the tactics of other similar software that only checks the URL of requested pages, as hundreds of new sites with inappropriate content appear every minute.

The software has several controlling functions, including analyzing the content of a page for the presence of forbidden phrases, blocking access to sites on the "black" list, restricting the use of Internet Explorer by time and by days of the week, storing URLs of visited internet resources to a special file, and closing Internet Explorer pop-up ads automatically. Additionally, the maximum browsing restriction function allows access only to the internet addresses in the "white" list.

Overall, ChildWebGuardian PRO is an effective, reliable software package for ensuring your child's safety on the internet, with a range of powerful features to keep inappropriate content at bay.
What's New
Version 2.0.15: N/A