Fast Windows Hider is a privacy tool for Windows users that allows them to quickly hide their activities with ease. This software enables users to conceal their computer activities when needed to protect their privacy.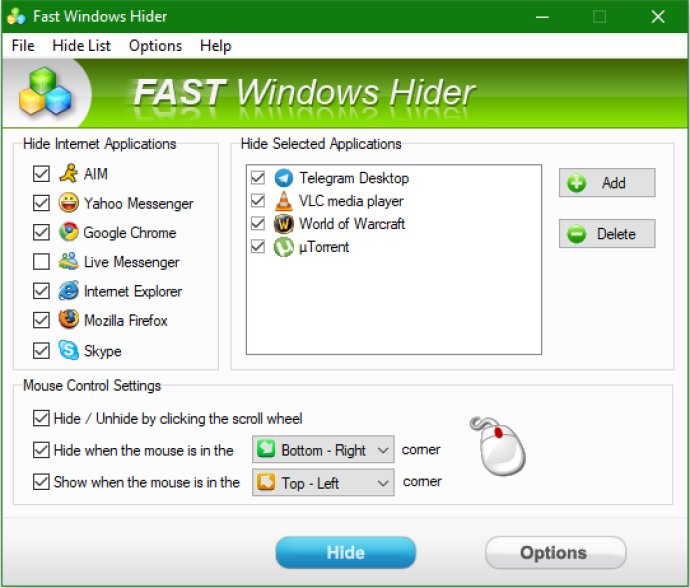 Fast Windows Hider is a software designed to safeguard your privacy by providing an instant solution for effective hiding of your confidential activities. This tool helps you keep your emails, entertainment, and personal data secure from prying eyes.

With Fast Windows Hider, you can easily hide any computer activity instantly with just a single click or by pressing hotkeys without closing or minimizing them. This way, you can be confident that your activities are completely hidden from the screen and taskbar as if they have never been launched.

Moreover, you can use Fast Windows Hider to hide various activities that you don't want others to see, including social media, games, chats, movies, and much more. You can now relax and stop worrying about your boss, colleagues, friends, and anyone else. Fast Windows Hider will keep your activities private and safeguard your privacy.

In summary, Fast Windows Hider is a reliable software that effectively helps protect your privacy by providing a fast solution for hiding your confidential activities. It's hassle-free and straightforward to use and can be very helpful, especially when you need to keep your personal data away from prying eyes.
What's New
Version 11.2.1: N/A
Version 5.9.2: N/A
Version 5.3.2: Improve user interface
Version 3.9: Improve user interface
Version 3.7: Improve user interface
Version 3.5.0: Improve user interface
Version 3.2.2: Mute sound
Version 1.62: N/A