With our software, managing and enhancing your photos has never been easier. Sort and organize your pictures quickly into folders and categories, while editing tools help you perfect your images. Get your photos ready to share with the world in record time.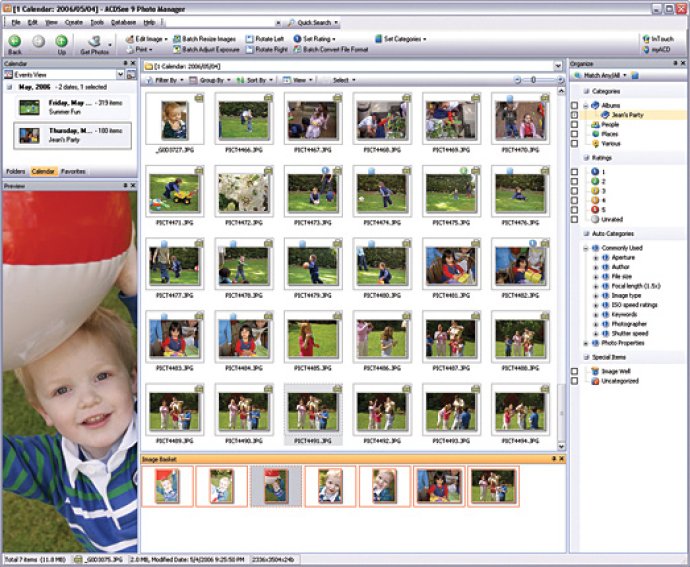 ACDSee 9 Photo Manager is a powerful photo software that enables you to organize, view, fix, and share your photos with ease. Whether you are a professional photographer or just an avid hobbyist who takes photos of friends and family, ACDSee 9 can help you manage your collection quickly and easily.

With ACDSee 9, you can import photos from any storage device and the software will automatically categorize them based on metadata information such as keywords, size, and date taken. You can also use the password-protected Private Folders feature to store confidential information securely.

In addition to organizing your photos, ACDSee 9 comes with a range of full-screen quick viewing tools, time-saving Print Layouts, and email options. You can also create slide shows, burn CDs/DVDs, and use web album tools to share your photos effortlessly.

ACDSee 9 offers quick fixes for common issues like red-eye removal, color cast removal, exposure adjustments, and the Photo Repair tool. You can also batch rename, crop, and resize multiple photos at once and assign them to folder systems, ratings, or custom categories.

The Shadow/Highlight tool is a fantastic addition that allows you to fix photos that are either too bright or too dark instantly. You can also use the ACDSee Quick View mode to view your photos onscreen instantly, whether you are opening an image attachment to an email or double-clicking on a JPEG from Windows Explorer.

ACDSee Showroom brings your photo memories right onto the desktop, and you can set a folder path to your favorite shots and watch them in sequence. Finally, the new Calendar Events View allows you to display your photos in an organized event list with a unique caption for each event.

Overall, ACDSee 9 Photo Manager is an excellent software that offers robust features for photo organization, viewing, editing, and sharing. It is easy to use and offers a wide range of tools to satisfy both beginners and professionals alike.
What's New
Version 9.0.108-en: Vista Certified, Quick View mode, One-click red-eye reduction, Password protected Private Folders,Calendar Events View, Auto Categories, Shadow/Highlight tool.