This software enables the interpretation, analysis and presentation of resistivity sounding data. It simplifies the process of studying subsurface geological formations and identifying potential groundwater sources.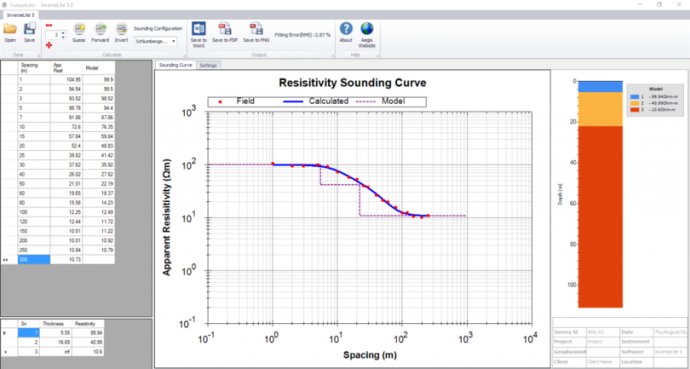 InverseLite is a Resisitivity sounding interpretation program that is widely used among Geologists, Geophysicists, Water and Civil Engineers. This software is capable of finding a likely earth layer model given any set of sounding data, such as Electrode Spacing and Apparent Resistivity values. Additionally, it can generate apparent resistivity values for any given earth model.

The program uses the Levenberg Marquandt non-linear Least Square method to find layer parameters that fit the field sounding data. It can interpret both Schlumberger and Wenner Resistivity Sounding data, even in the presence of noisy datasets. InverseLite is versatile in its usage, making it ideal for interpreting sounding data from any terrain for a variety of purposes including location of borehole drilling points, foundation engineering studies and mineral exploration.

One significant advantage of using InverseLite is that it drastically reduces the time it takes to analyze and interpret data, making the process more efficient. Prior methods of interpretation by curve matching are prone to errors, making it difficult to check the correctness of the interpretation. With InverseLite, every interpretation is cross-checked against the original field data and percentage differences are calculated, mitigating any potential errors.

This software comes with a variety of features that make it an excellent tool for data analysis, such as fast inversion of Schlumberger and Wenner Resistivity Sounding data, requiring no initial guess or starting model, detail error check back of Inversion model, forward generation of apparent resistivity data for any given model, supports Windows resources and media, and graphical display of both field and inverted data.
What's New
Version 5.0: Added Wenner Array
Faster Inversion
Export Screen graphics to PNG Image