PopUp Wisdom is a quote and humor display software that allows for custom reminders and messages. Users can schedule quotes and add their own content, with support for multiple books and fortune file formats.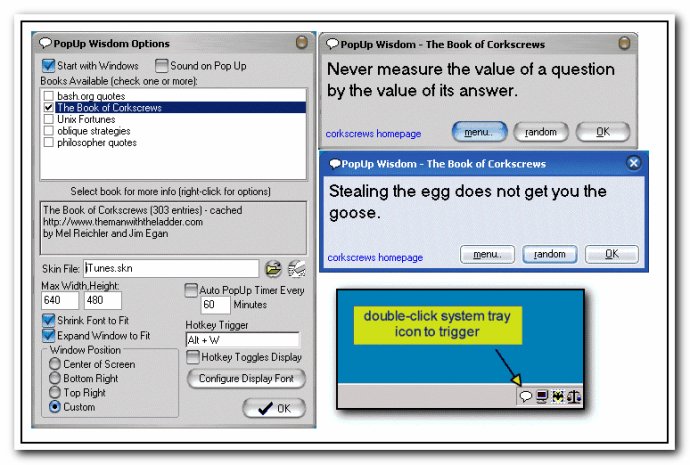 PopUp Wisdom is a software that displays a wide range of famous quotes and humorous content based on your demand or at a scheduled time. The software also comes with a feature that enables users to easily add their personalized messages and reminders to the mix.

With PopUp Wisdom, users can access a range of content, including well-known quotes and lesser-known pieces of wisdom. The software also supports fortune file format, allowing users to access additional quotes and, in turn, enhance their user experience.

In addition, PopUp Wisdom offers support for multiple books, giving users a wealth of content to choose from. This feature ensures that users can shift between books and access a diverse range of content with ease.

Overall, PopUp Wisdom is an excellent software for anyone seeking to access daily doses of motivation, humor, or inspiration. Its features and functionalities make it a user-friendly and versatile tool that caters to various personal and professional needs.
What's New
Version 1.09.01: first public release