The software eliminates junk files from your computer and safeguards your online privacy. It identifies and deletes unnecessary data that hampers your storage space and also clears up your online browsing history.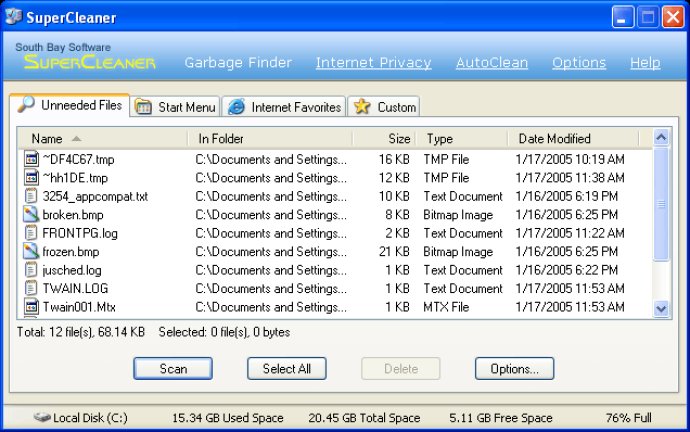 SuperCleaner is a remarkable software designed for Windows that keeps your computer clean from clutter. It offers an all-in-one disk cleaner that provides various features to ensure that your system stays clean and running smoothly. The stunning Garbage Finder detects hundreds or thousands of MBs of superfluous files that are consuming unnecessary space on your system.

SuperCleaner also provides an Internet Privacy feature that takes care of your privacy while surfing the web. The tool enables you to erase your browsing history, cache, cookies, and obscure index.dat files. The built-in Cookie Manager allows you to manage your cookies. Here, you can select which cookies you want to eliminate and which ones you want to keep.

Furthermore, the Start menu cleaner finds all the dead files in the Start menu that are pointing to nonexistent files. It then gives you the option of deleting these files, giving you more space on your system. Additionally, SuperCleaner offers maximum security as you can choose to erase files using a file wipe. With this feature, it's impossible for anyone to recover your files using "undelete" software.

SuperCleaner is highly efficient yet user friendly, making it an excellent software for beginners. Overall, SuperCleaner offers a wide range of features that help you keep your system clean, secure, and running at its best.
What's New
Version 2.95: N/A