Email Id Extractor for Gmail is a highly efficient tool that allows users to retrieve all email addresses associated with their Gmail account quickly and easily. With an intuitive interface and comprehensive set of features, this software is an ideal solution for anyone looking to streamline their email harvesting process.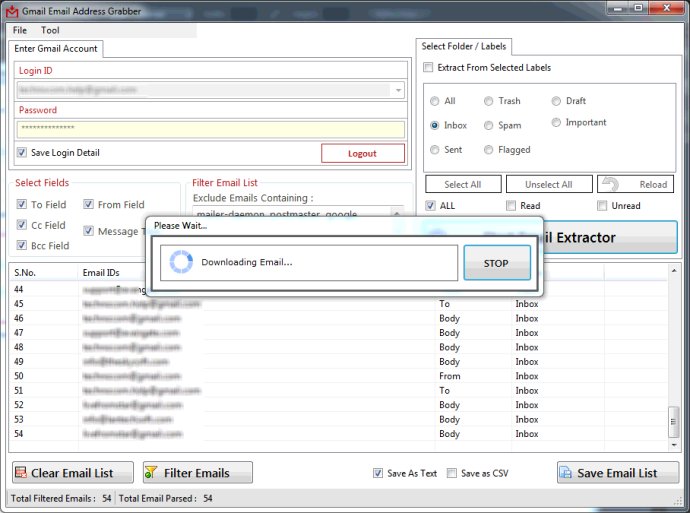 The Email Id Extractor for Gmail tool has been designed specifically for the purpose of extracting email ids from one's Gmail account. This software boasts of the latest features that provide ample options to extract email ids in bulk. With the speed and efficiency of this tool, it can fetch email addresses from various folders in Gmail such as Inbox, Sent, Draft, and more.

Moreover, it has the ability to extract email addresses from fields like To, From, CC, BCC, and others. Users have the option to tick on the 'Do not list Duplicate Ids' choice to prevent duplicate ids from getting downloaded. Once the email ids have been extracted, users can also save them in either .TXT or .CSV formats according to their convenience.

This Gmail id extractor is known for its effectiveness in getting addresses and its easy-to-use framework. Its features, speed, and accuracy make it one of the best Gmail email id extractor software on the market at an acceptable price.

Some of the main features of this tool include the ability to extract emails from multiple Gmail folders and labels, a very fast speed, the option to selectively extract emails from chosen labels such as only from SENT items, and the ability to filter email ids like mailer daemon and postmaster. Users can even save the full list of extracted email ids in an Excel sheet.

Overall, this is a great tool for marketing or any other business needs that involve extracting email ids from one's Gmail account.
What's New
Version 2.5.0.11: Windows 10 Support
Better Performance
Smaller Bug Fixes