SuperMailer software facilitates the sending of personalized serial mails and newsletters with attachments, both as plaintext or in HTML, and enables up to 10 simultaneous threads. SMTP server, Microsoft Outlook or any MAPI-capable client can be used to send these emails.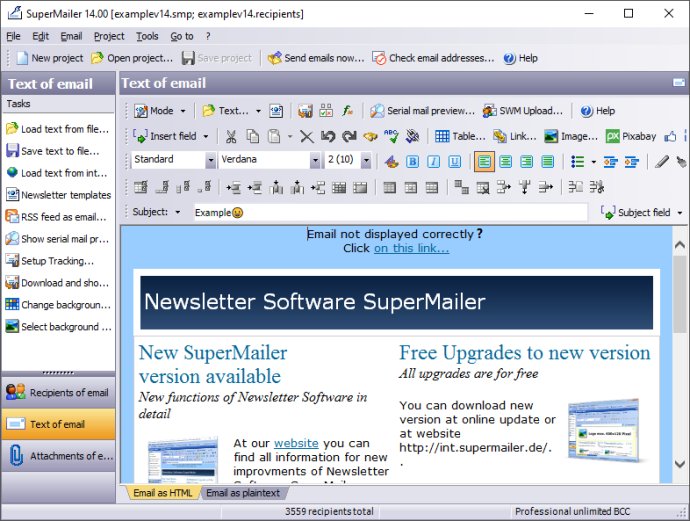 If you're in need of a software that allows you to send personalized serial mails (such as newsletters), SuperMailer is the perfect program for you. With SuperMailer, you can send emails in both plaintext or HTML with attachments using up to 10 threads simultaneously.

The best part? You can import recipients from a variety of places, including a text file, Windows address book, Microsoft Outlook, Excel or a SQL database. SuperMailer manages everything to do with the message, including the recipients, email content and attachments in one single project, making it incredibly easy to reuse data.

Creating email as HTML has never been easier, thanks to the integrated WYSIWYG editor that lets you insert images, hyperlinks and tables as you go. The progress of your email will update in real time while you send – with the ability to save a plain text or HTML file protocol once you're done.

SuperMailer uses a number of methods to send your email. It can work with a SMTP server, Microsoft Outlook, a MAPI capable client, send the message directly to the recipient, or use a PHP script to send newsletters over your server or web space.

One of the best parts is that SuperMailer integrates various functions to check email addresses, hyperlinks and correct spelling, making it the perfect tool for success control. Additionally, it integrates a subscription/unsubscription script (for free) that makes managing newsletter subscriptions and unsubscriptions a breeze.

In summary, SuperMailer is a fantastic software that allows you to send personalized bulk emails to your recipients, manage your newsletter easily across a variety of platforms, and provides a range of checks and balances to ensure successful delivery. If you're looking for ease and convenience in a mailing tool, then SuperMailer is definitely worth checking out.
What's New
Version 10.10: changes on webpage