This software is a messaging solution that includes features for email and newsgroups. It has a user-friendly interface, secure message storage in open-database formats, and support for modern protocols. Developed by a passionate team with quick and dedicated user support.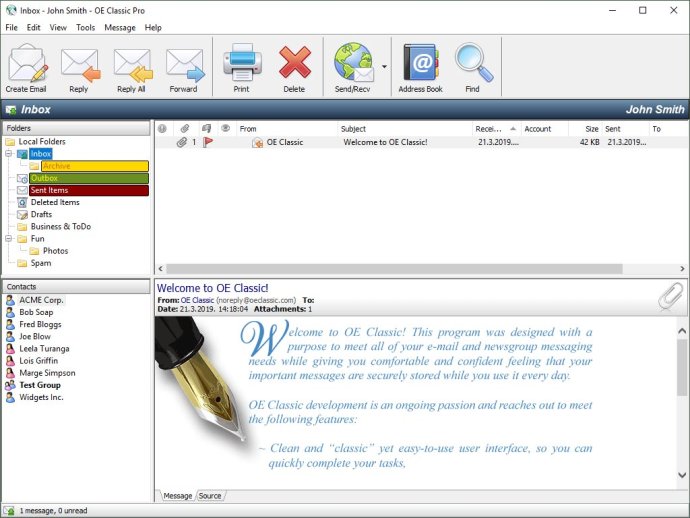 If you're looking for e-mail and newsgroup software that can cater to all your messaging needs, then look no further. Our software is designed to be a complete replacement and improvement for every user of Outlook Express and its successors like Windows Mail and Windows Live Mail.

With our software, you can expect a fast and easy-to-use interface, that supports all the latest email/newsgroup standards, and works with a variety of servers. This means that regardless of the email provider you use, our software will integrate seamlessly and provide you with a smooth user experience.

Moreover, our software works on all modern Windows Operating Systems, including Windows 10, Windows 8, Windows 7, Windows Vista, and Windows XP. Our developers have clearly kept up with the changing technological landscape to ensure that our users receive the best and the most up-to-date product.

One of our key features is the ability to move messages easily from computer to computer. Our open storage format ensures that your emails are never locked in proprietary databases. Moreover, we pride ourselves on the secure saving of downloaded messages, ensuring crash-proof saving even if a crash occurs while you're in the middle of saving a message. This means that message integrity is always preserved, and you never have to worry about losing important messages.

Lastly, we are a team of passionate developers who are dedicated to providing quick and dedicated user support. We strive to offer our users a seamless experience, and our support team is always ready to help if you have any questions or run into any issues. So, download our software today and enjoy a messaging experience like never before!
What's New
Version 3.1: IMAP improvements for less capable servers, IMAP MOVE extension support, improved POP (resume from last aborted message, leave a copy on server for a user-defined time period), IncrediMail import, 2-layered header decoder, improved accessibility, 48x48 icons, digitally signed installer.