Mailbird is an email application for Windows that offers features like Email Speed Reader, Quick Compose, and Productivity Apps to help manage emails and achieve inbox zero quickly.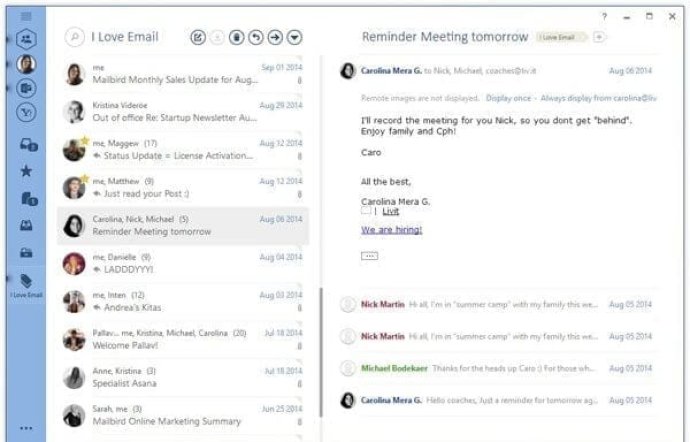 Mailbird is an exceptional email platform specifically built for Windows users. Its design is meticulously crafted to ensure a quality user experience. Of paramount importance to Mailbird is productivity – an elevated email experience. Understanding that people use email frequently, Mailbird is here to make it both efficient and enjoyable.

Time is incredibly precious, and Mailbird is dedicated to improving email management to save as much of it as possible. With Mailbird, users' email habits are analyzed and adapted to deliver the best email productivity features. Additionally, Mailbird offers an array of features that matter to users: from the first-ever Email Speed Reader to the inline reply that organizes email into well-structured replies for both the user and the receiver.

Moreover, Mailbird has intuitive and fast email productivity features such as Quick Compose which allows you to draft an email even when Mailbird isn't the active window. Also, Quick Preview permits users to preview emails by hitting the space bar instead of having to double-click an attachment.

Mailbird presents an extensive list of customizations: users can access Google Drive, Dropbox, Evernote, Facebook, and many more inspiring apps. The software is available in different languages, which is crucial for a global product.

Mailbird synchronizes multiple email accounts by supporting multi-account support for both POP3 and IMAP email accounts. This means that users don't have to worry about logging into different web interfaces; instead, Mailbird keeps everything organized in one place, leaving users more focused and less distracted.

Mailbird's innovation makes it the best email tool for both personal and professional use. With its evolving technology, Mailbird provides its users with an all-rounded experience tailored to their needs.
What's New
Version 2.4.14.0: Implemented quick preview for rtf files, improved speed at startup, improved general stability, various styling improvements