SurfStatsLive Reporting Service is a web analytics software for Windows servers. It allows web hosts and service providers to generate browser-based reports on Website Statistics for clients on demand. Compatible with Windows 2000/2003/2008, Vista, and 7.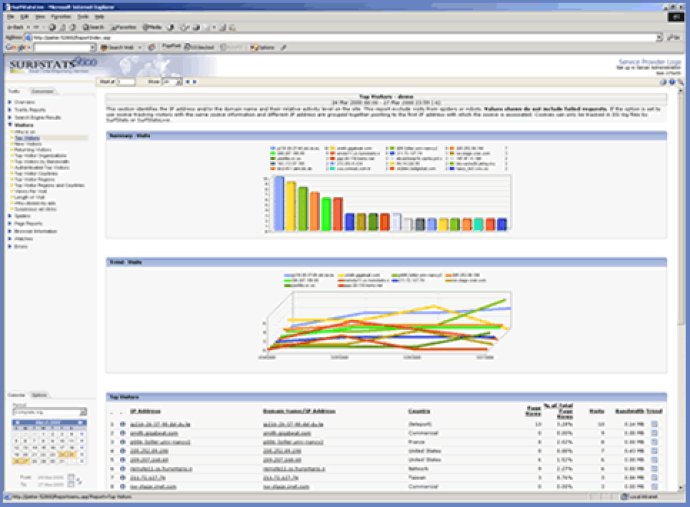 SurfStatsLive Reporting Service is an exceptional web analytics tool that operates as a server-based software on Windows 2000/2003/2008, Vista or 7. It enables web hosts and service providers to provide on-demand website statistics reports for their clients using a browser-based interface.

One aspect that sets SurfStatsLive apart from its competitors is its ability to generate reports all the way down to the sub-directory level. This makes it particularly useful for web hosts with resellers, providing them with more detailed analytics.

SurfStatsLive is also versatile enough to act as a Statistics Bureau for clients who don't have log files, which is really convenient for businesses without the technical expertise required to set up their own analytics infrastructure.

The software supports various log file formats, including files located on the hosting server or other web servers within a local area network. To speed up site profiles set up, IIS web sites can be imported directly into this tool.

SurfStatsLive generates reports in most major languages, and additional languages can be added with the free Language Editor.

With the trial version, users can run the Standard Edition, Professional, or Enterprise Edition. The Standard Edition can analyze ten site profiles simultaneously, whereas the Professional and Enterprise editions have no limitation on the number of profiles.

Notably, the Enterprise Edition features eCommerce reporting, Click Fraud reporting, and Windows media log file support, making it the most comprehensive version of SurfStatsLive.
What's New
Version 2013.5.13: SurfStatsLive can now email pdf reports