SolSuite Solitaire offers a premium selection of solitaire games, including all the popular ones worldwide.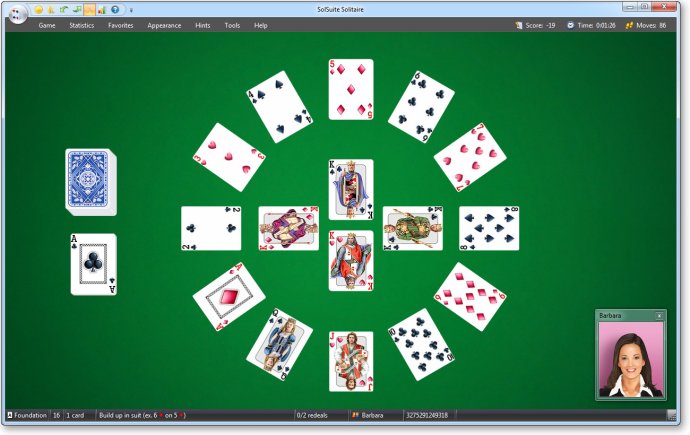 SolSuite Solitaire is a top-of-the-line collection of solitaire games that beats every other solitaire game out there! This game pack features all your favorite games including Spider Solitaire, Klondike, FreeCell, Pyramid, Golf, Busy Aces, Canfield, Forty Thieves, Four Seasons, Carpet, Flower Garden, Rouge et Noir, Monte Carlo, as well as original solitaires that you won't find in any other game.

You can play each solitaire over nine trillion times possible shuffles so that the excitement never gets stale no matter how many times you play! With SolSuite Solitaire, detailed statistics of each game are available such as graphs, 3D charts (pies and bars) and tables. You can monitor your skill level (by total, current session, series of wins and losses, players' games won, players' score, hi-scores), statistics for All Games, Won games, Not Won games, Over Average, Under Average, and much more!

For lovers of solitaire games, SolSuite Solitaire guarantees pleasure each time played. The game is full of excitement, challenges and challenges that will keep you entertained and engaged for hours. So if you like solitaire games, then SolSuite should definitely have a place in your collection. With SolSuite Solitaire, you will never have to play any other solitaire game again!
What's New
Version 13.3: Download the NEW v13.3 with two new original Solitaire Card Games!