This software allows you to search for image files on your computer with customizable thumbnail sizes, index and organize them into a virtual album tree, and run slideshows with smooth transitions. You can also remove RedEye effects, create movies, and do batch editing such as resizing, rotating, watermarking, and adding IPTC or Microstock information.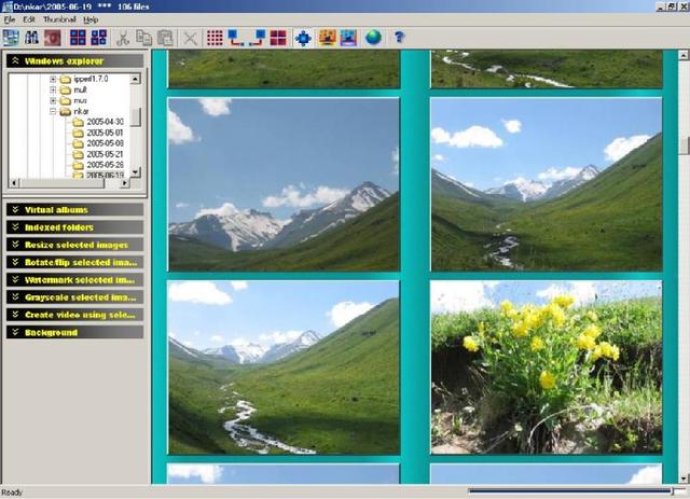 If you're looking for a software that can help you organize your image files better, you might just want to check out this. One of the best things about this software is that it allows you to explore your computer for image files with variable size thumbnails. You can change the thumbnail size instantly from the toolbar or bottom slider to see the details of each image.

Additionally, you can index folders containing image files for fast access, making sure you can easily locate any file you require. You can also organize images in a virtual album tree defined by you, which means you can easily group your images by topic, location or whatever criteria you prefer.

But that's not all. You can also run a slideshow with smooth transition effects, using the file order you set. This feature is perfect for when you want to showcase your photos to friends and family.

For those photos that need a bit of retouching, you can remove the red-eye effect with ease. On top of that, this software also allows you to create a movie or execute batch resizing, rotation, and watermarking of multiple images in one go.

Finally, this software also comes with IPTC and Microstock features to help you with editing and managing your image metadata quickly and easily. All in all, this software is easy to use and packed with features that are perfect for managing your image library. Give it a try, and you won't be disappointed.
What's New
Version 2.0.5: N/A
Version 1.6.4: N/A
Version 1.6.3: N/A
Version 1.6: N/A
Version 1.5: N/A
Version 1.4: N/A
Version 1.3: N/A