PloView is a high-speed software that allows users to view PDF, HPGL, DXF, DWG, GERBER, and other image files. It also supports output to plotter, printer, and various files. With similar input and edit functions as 2D-CAD, it offers powerful features for users.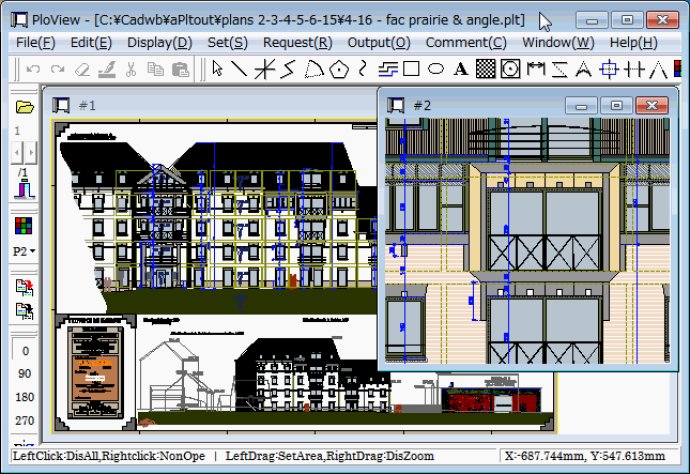 PloView is an outstanding viewer that allows users to view drawings of HPGL, Vector and image file. What's more, its functionality is very similar to that of a 2D-CAD.

With the PloView software, users can support numerous file formats, including HPGL, HP-GL / 2, HP RTL, PDF, DXF, DWG, GERBER, NC-Drill, IGES, SXF, EMF, TIFF, JPEG, Bitmap, PCX, FPX, GIF, PNG, CMT. The software also supports output file formats such as HPGL, HP-GL / 2, HP RTL, PDF, DXF, DWG, IGES, SXF, EMF, TIFF, JPEG, Bitmap, PCX, FPX, GIF, PNG, Printer, Plotter, WMF, PS, EPS, SVG, XPS, PCL, and CMT.

The software allows users to easily change the color and width of a line, change between 'black and white' and 'color', change background colors and pen ON/OFF. It also features a display mode (Copy / Merge / Xor / data), thumbnail display, multi-page correspondence, and the ability to change the vector font / TrueType font of text font.

The Request function provides users with a measurement function for coordinates, length, area, line width, and angle, as well as text search and connected line search. The total line length measurement feature is also available.

In addition, users can also edit their drawings using the Comment function, with features like New create, Input file of (1), Save to file of Insert: Figure kind: Polyline, Arc, Circle, Horizontal line, Vertical line, Slanting line, Opposite side angle line, Regular polygon, Ellipse, Offset line, Free curve, Cloud shape line, Spline, Surface, Rectangle, Long circle, Text, Bitmap, Macro, and Dimension (Horizontal, Vertical, Parallel, Angle, Radius, Diameter).

The Set feature provides users with a Layer tool, supports up to twenty (20) layers where users can set properties. Editing tools like Select (individual, rectangular area, polygon area selecting), Move copy, Delete, Divide / Delete / Move / RouteChange polyline section, Delete line in selected area boundary, Trim, Change property, Change vertex R, Chamfer, Connect Line, Rotate copy, Scale Up / Down copy, Macro-izing, Macro breakup, ReDo, and UnDo are also available.

Overall, PloView is a must-have for users looking for a highly reliable and efficient software for viewing and editing drawings.
What's New
Version 11.0: (1) Compatible with Windows 11.
(2) Code signing was added.
Version 10.1: (1) Combine files, divide a file.
(2) Layer function added in PDF output.
(3) Added function to attach PDF notes annotation to cloud mark closed loop with PDF output.
Version 10.0: Comment function was greatly improved just like 2D-CAD. It corresponded to input and output of DWG and SXF file.